Achona Editor named National Achievement Scholar Finalist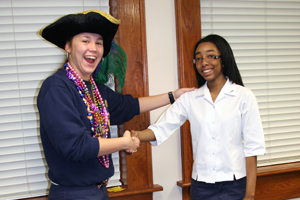 Josie Little, Achona Politics and Cultural Editor,  has been designated a finalist in the National Achievement Scholarship Program by the National Merit Scholarship Corporation (NMSC).
Of the 160,000 Black American high school seniors from all parts of the United States who requested consideration for the recognition, roughly 1,300 have been designated finalists. Finalists have the opportunity to continue in the competition for approximately 800 Achievement Scholarship® awards worth more than $2.4 million to be offered in the spring.
The National Achievement Scholarship Program is a privately financed academic competition that operates without government assistance. It was initiated in 1964 to recognize academically promising black students throughout the nation and to provide scholarships to a substantial number of the most outstanding program participants