Pilot Program encourages tech-savvy devices for learning
Cell phones allowed in class? Laptops on kids' desks? This is no mistake. Academy of the Holy Names has gotten Tech-Savvy.
Effective this spring semester 2012, students in grades 8-12 have been allowed to bring electronic devices to classes in which the teacher is participating in the Pilot Program. These teachers include Mrs. Jamie DiPierro, Mrs. Edie Lebas, Ms. Danielle Gronan, Sister Ann Regan, Mrs. Beth Sawyer, Mrs. Deborah Collins, Mr. Christopher Buysse, Dr. Tricia Dieck, Mrs. Ana Gonzalez, Mrs. Erin Lee, Mrs.Mary Alice Lopez, and Mrs. Kimberly Wiley.
In AHN's goal to prepare bright young learners, the Pilot Program was begun to see how teachers and students  incorporate relevant technology in academy subjects. In addition, the program will make a decision as to which devices are going to be most beneficial to students and teachers alike. As of now, the devices that are acceptable in class range from smart-phones to graphing calculators to laptops to  e-readers, iPads and android tablets- essentially anything except gaming devices.
To ensure that this pilot program lives up to its full potential, eligible students were required to sign a Pilot Acceptable Use Guidelines Contract. Just as the famous quote says "With great power comes great responsibility," students and teachers must both follow the rules for using their technology in class. No student may use their electronic device outside of the Pilot classroom and should only use it for academic purposes.
Mrs. Sergina Bach, the dynamo behind the successful start-up of the project,  helps teachers adjust to their new devices for each two-week trial period.  She also researches apps and shares those with teachers.
"I hope the pilot program is successful, and students will utilize technology in ways that help them learn the best because not all students learn the same way.  I hope they'll do things with technology that will help them dig deeper in what they need to learn. "
Bach said, "Five years from now, students will have their textbooks right there on device tablets and laptops. I hope technology motivates students to take ownership of their learning. To find their own way- maybe an app or a site that helps them learn best."
About the Writer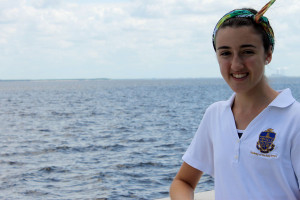 Gini Barreda, Features Editor
Although her strengths lie in writing and editing stories for Achona, she also specializes in Storify and photography. Gini is currently President of the...