Interact Club's spring Blood Drive survives challenges
The Interact Club spring blood drive was challenged from the start.  With over half of the senior class off campus for a field trip, that left a smaller pool of donors.  To compound this challenge, the blood mobile lost power after the generator died, leaving several donors without the opportunity to donate.
However, for the girls who gave prior to the shut-down,  the drive s was by no mean a waste.  The blood each girl donated has a possibility of saving up to three lives and six babies.
Junior Rae Knopik, one of the donors, explained her sincere passion for giving blood.  "I decided very young, for whatever reason, that I would always give blood. It wasn't until high school that I actually knew and understood how important donating blood is. I donate because giving blood is free and easy. It doesn't cost me anything but an hour or so of my day. I donate because so many people who need blood can't get it. I have been blessed with so much, and because of this, I feel it is my responsibility to donate."
Providing a hearty breakfast and snacks, Interact Club members made sure that the donors were in good health prior to their donation. Under the instruction of their moderator Mrs. Rebeca Zambrano, the members kept the girls comfortable. Newly elected Interact President Cara Millburg worked hard with her Vice President Kimber Knapp to make sure the drive went as well as possible.  Interact Club thanks the following girls who donated during this drive:
Mary Green
Sarah Port
Jackie Posada
Marcela kant
Ana Herbst
Shannon Gibbons
Sophia Miranda
Rae Knopik
Chloe Storch
Hanna McLaughlin
Ammara Harrison
Hannah Mc Carthy
Morgan Welch
Katherine Quimbayo
Kerrie Spiller
Colleen McInerney
Brynn Wiley
Sarah Plummer
Hannah Crall
Siobhan Plummer
Dana Nazaretian
Vallie Joseph
Michelle Ebrada
Carly Stagg
Gaby Mendez
Shae Timmons
Windi Sanchez
Ashlee Wallace
Cavesha Anderson
Carolyn Allen
Jennifer Compton
About the Writer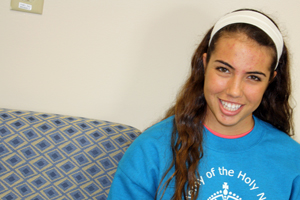 Alexandra Diaz, Multimedia Club
Alexandra Diaz is not only a captain of the swim team, but also an active member of the Teen Leadership Council. Alexandra is a master phtographer and...