With advent of iPads next year, Media Center prepares for ebook check-outs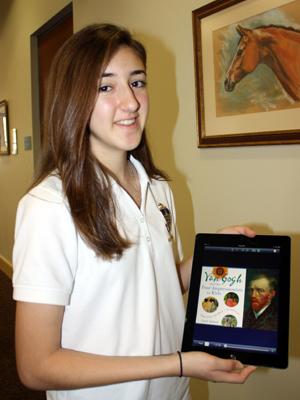 AHN has been abuzz with the announcement this week by President Art Raimo about the newest addition to Academy for 2012-2013:  the introduction of new Apple iPads into the classroom.  In his weekly email letter to AHN families on April 19, Mr. Raimo invited parents to attend an informational session provided by members of administration and teachers on Wednesday, May 9th, at 6:30 p.m. in the Brady Center.
This past week, teachers have received their iPads and have begun evaluating apps, texts and resources that will integrate their curriculum with the features offered by the latest tablet from Apple.  In preparation for the transition to tablets, many students and teachers in the Technology Pilot Program this semester have already begun to practice using Google Docs in the classroom for collaborative learning and submitting assignments to teachers.
Down in the Media Center, techie-savvy Media Coordinator Mrs. Emily Swiger has been busy researching the many ways iPads will connect with the rich resources available at Academy.  Mrs. Swiger has confirmed that checking out books will be much faster and easier when using the new iPad. Currently, the Media Center is in possession of  three  Kindles, but they are not always reliable across all platforms.
Next year, Academy iPads will include a free app called Follett eBooks. Students and teachers will be able to have their own account set up on their individual iPads.    The app will make ebooks available for check out. When it's time to return the book, there's no need to stress. The book is automatically returned from the individual's account directly back to the electronic library bookshelf.
Mrs. Swiger believes that all students at Academy will benefit from this one-to-one computing with iPads. "Libraries are changing so fast so we depend on student feedback.  We want to know what you want out of your library."
In five years time, Ms. Swiger predicts that many resources will be put into digital formats and that libraries in general will continue evolving into a common learning and service area more so than a "quiet place." She hopes that electronic access will be made easier, as well. Already, Academy offers an impressive array of electronic databases that students can access from the classroom or from home, including Infotrac, Gale Literary Criticisms and Opposing Viewpoints.
However, Mrs. Swiger believes that print copies are still important.  "Regardless of the technology, we will always have a print collection of books because they are still necessary in libraries."