Jaguarettes welcome 11 new members on their team of 25 for next year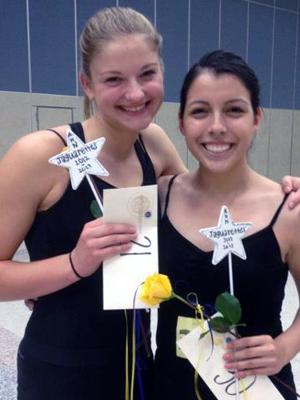 Over 30 girls, including five on video, auditioned on Friday, April 27, to earn a spot in the highly regarded Jaguarettes Dance Squad. Jaguarette Head Coach Mrs. Stephanie Zummo announced that 25 young ladies have been accepted for the 2012-2013 school year. This year will be Zummo's ninth year as the coach of this squad, and the first year in which the Jaguarettes will be comprised of  six new members.
Taking the leadership spotlight to replace graduating seniors will be Annie Polo as captain and  Sarah Shakespeare and Jane Lazzara as incoming co-captains.
"We have a very strong rising senior group,  and I look forward to another great year ahead with them!" said Coach Zummo.
2012-13 Jaguarettes
Seniors – Anna Cevallos, Demi Curbelo, Jane Lazzara, Annie Polo, Sarah Shakespeare; Juniors – Rachel Astorquiza, Maddie Cahill, Lizzie Emmanuel, Theresa Lopez, Hannah McCarthy, Natasha Rahim, Hannah Crall; Sophomores – Cristina Baldor, Lauren Calka, Claire Cardillo, Carly King, Courtney Mastrorio, Madeleine Morris, Gaby Ruiz; Freshman – Sofia Curry, Kelsea Henry, Maddie Matesich, Ashley Repar, Alicia Rooney, and Veronica Sanchez.