AHN swim and volleyball teams receive Youth in Philanthropy Award
On Wednesday, November 14, the Suncoast Chapter of the Association of Fundraising Professionals presented the swimming and volleyball teams with the Youth in Philanthropy Award for their dedication to the community and fight against breast cancer.  AHN and the Moffit Cancer Center co-nominated these athletic teams because their annual Spike and Splash for the Cause raised over $7,400 solely this year for the Moffit Cancer Center.
Representatives from the swimming and volleyball teams attended the National Philanthropy Day luncheon, held at the A La Carte Pavilion,  to receive this honorable recognition.  Host Ms. Gayle Sierens called the girls to the stage to receive their award.  On behalf of their teams, seniors Alexandra Diaz and Chandler Cartwright accepted the Youth in Philantropy Award from Ms. Marlene Spalten of the Community Foundation and Mr. Marion Yongue of USF and AFP President.  Fellow teammates Clare Fleming, Emily Pollock, Tori Litschgi, Jennifer Aprile, and Kristen Dawson also supported Diaz and Cartwright on stage.
While on stage, a previously taped interview played of Diaz and Cartwright explaining the fundraiser, their idea of philantropy, and the honor of their teams receiving this phenomenal award.  In the interview, the girls explained their team's motivation to continue the fundraiser for former teacher, friend, and swim coach Mrs. Mara Schultz, who passed away after a long battle of breast cancer in 2010, and for loved ones in the community affected by breast cancer.
Mrs. Debbie Gavalas, who serves on the Board of Directors on AFP and as AHN's Director of Advancement, believes the recognition is a way to demonstrate AHN's love  of and dedication to the community.  "I'm extremely proud of our swim and volleyball teams, along with the students and parents who support and embrace this annual event.  I am especially proud of our school being awarded the Youth in Philantropy Award.  It is an outward demonstration to the community of the good work that our students do to bring awareness to this problem of breast cancer and the need for resources to provide for cancer research."
About the Writer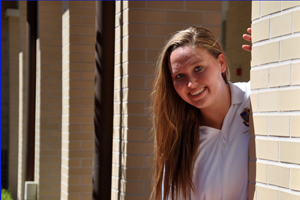 Tori Litschgi, Co-Editor


Tori Litschgi is one of the Co-Editors of Achona. She is also president of Golden Girls, the school spirit club, and vice president of the Senior...