HOBY honors senior Sarah Shakespeare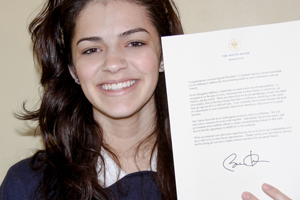 The Hugh O'Brian Youth Leadership, also known as HOBY, honors senior Sarah Shakespeare for completing over 100 hours of community service after her HOBY experience.
Shakespeare received a certificate of recognition for her dedication to the community, along with a signed letter from President Barack Obama.  Javier La Fianze, HOBY's President and CEO, wrote a letter of recommendation for her college application regarding her outstanding volunteering.
Shakespeare felt honored to receive such an award.  "The award was really unexpected.  I really loved my experience at HOBY, and I feel extremely honored to receive this recognition."