Echoes yearbook staff joins AHN publications and students in top awards
Within the last two months  two Academy students and all three AHN publications have won finalist, silver or gold awards from student publication organizations. Most recently, the school's yearbook Echoes has received a Silver Medalist Award with 778/1000 points from Columbia Scholastic Press Association (CSPA).
Last week the school's literary magazine, Excursions, received a rank of Excellent from National Council Teachers of English (NCTE).  At the same time, two senior Achona staff members were named as finalists in two different writing competitions: Tori Litschgi in the Fireside Essay Scholarship and Felicia Nelson in the Scholastic Art and Writing Awards.
In late December Achona won the CSPA Gold Medal for digital publications and a Crown Award from CSPA, which will be presented at the annual conference at Columbia University in New York on March 20-22.  Adviser Mrs. Edie LeBas has been asked to present at two sessions, along with Achona Co-Editor Caroline de Quesada and Creative Media Editor KeTaira Phillips.  Also attending the conference will be Echoes Adviser Sister Lisa Perkowski and Achona section editors Alex Gerecke, Sam Vargas, and Rachel Anderson.
Out of 417 schools who submitted their literary magazines for review, Excursions  received its award for development, excellence, and participation in writing.  Club members celebrated their award at their club meeting on Wednesday, February 6, with their adviser Mrs. Patricial Loesekann and Academy Principal Mrs. Camille Jowanna.
Co-Editor Victoria Litschgi entered her essay through Sister Ann Regan's Social Justice class. The Fireside Essay Scholarship competition, run by a Catholic publishing company, focuses on rewarding students who exemplify the qualities of their mission.
Starting with 454 qualifying applications, Litschgi was chosen to be one of the forty-nine "Finalists." Her essay will be sent to three national judges. In late March or early April, the five winners of the $1,000 Scholarship awards will be announced.
Golden Veins writer Felicia Nelson received the Silver Scholastic Art & Writing Award for her short story, "The Quest for the Golden Harp." The Arts and Writing Awards are the oldest writing award program, celebrating 99 years this year.  Its primary goal is to "recognize the creativity and promise in young students."
About the Writer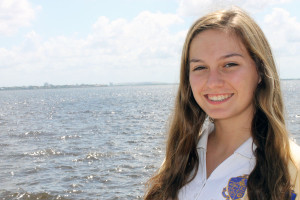 Elaine Petrarca, Social Media and Photo Editor
As Achona's photo and social media editor, Elaine knows how to make Academy shine. She is the President of the National Forensic League. She also participates...