Gabrielle Madden feted as Young Woman of Promise by Athena Society
Over the Easter Break, while most students lounged around on the beach and enjoyed stress free days, one of Academy's students received quite the honor.  The Dr. Sylvia Richardson Young Women of Promise Program rewards ten outstanding young women in Hillsborough County who are in their junior year of high school. The Athena Society declared Gabrielle Madden, an AHN junior, a Young Woman of Promise.
To receive this highly sought designation,  ten young women must have shown extraordinary leadership in their schools and communities, achieved academic excellence in their studies, and been nominated by their high school guidance counselors.  Madden proudly represented the Academy of the Holy Names as one of these outstanding women.
Upon arriving at the luncheon event, smiling faces and warm welcomes melted away any anxiety Madden may have felt. As one of the award winners, the Athena Society required Madden to make a one to two-minute speech. As an aspiring engineer and member of the Jesuit Robotics team, she spoke on the safety program that she created for the team.
She kept her audience alive with her charm and cheerful personality.  "I wanted to keep it lighthearted. Apparently I was quite funny."
In addition to making a short address, Madden also wrote a short essay for the society to fully encompass the essence of her personality. In this essay, she illustrated her deep desire to become an engineer and her joy in helping others.
"I wrote about robotics, community service, and my commitment to becoming an engineer or robotics to help people who have disabilities."
In addition to her love of science and technology, Madden's talent reaches far beyond the numbers and wires.  Not only proficient in Latin, Madden possesses a creative side that has also been recognized in the past. In 2011, the Florida Council of Teachers of English recognized Madden with a Writers Award for her poetry.
Madden's love of English also presents itself in her involvement in the Readers Advisory's Club, an AHN club in which students discuss various books that they read.
Along with her varied talents and academic achievement, Madden harbors a gentle heart and truly desires to help those less fortunate. "I also want to adopt children who could not otherwise have homes and become a 'Big Sister' so that some teenager can have a mentor who can help them and understands things.  I have been through a lot, but there are girls who have been thrust into difficult situations like abuse and life-threatening allergies."
Madden has an unquenchable passion to fulfill her dreams and make other people's live more comfortable.  As of now, she plans on attending the Summer Academy at University of Pennsylvania School of Engineering and Applied Science. The course is designed to give motivated high school students, like Madden, an opportunity to work firsthand with the most cutting edge technologies. With her determination, pasison, and compassionate heart, nothing can stop Gabrielle from reaching, if not surpassing, her goals.
Leave a Comment
About the Contributor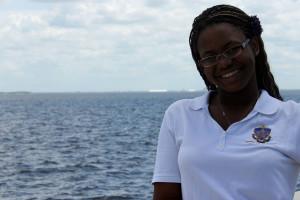 KeTaira Phillips, Golden Veins Editor
KeTaira Phillips, Achona's Creative Media Editor, greets the room with a bright smile and charisma to spare. In her free time she's normally doodling,...