Meet the 2014 National Merit Scholarship Semi Finalists
The National Merit Scholarship Semifinalists have been announced for 2014, and once again Academy students have been recognized for academic achievement. Seniors, Emily Rodriguez, Gabrielle Madden, and Carly Stagg have met the competitive requirements set by the National Merit Program.
Emily, Gabrielle, and Carly are 3 of the 16,000 semifinalists in the 59th annual National Merit Scholarship Program. These students have succeeded not only in academics, but in extracurricular activities.
In order to be eligible to become a merit scholar, high school students across the nation take the 2012 Preliminary SAT Qualifying Test, in which their scores allow the NMSC to screen all entrants. To be selected as a semifinalist, students submit a detailed scholarship application to show academic achievement, community service, leadership, employment, and any awards or honors.
These seniors have been chosen to compete for 8,000 National Merit Scholarships worth about 35 million dollars. Ultimately, Emily, Gabrielle, and Carly were selected because of their exceptional academic abilities and potential for success in college.
Based on their numerous achievements thus far, each of the Academy semifinalists have proven themselves as promising applicants. Emily Rodriguez has shown much triumph in the National Forensic League, qualifying for Nationals and making it to States in the acclaimed Poetry Out Loud Competition. Gabrielle Madden has demonstrated her leadership skills and determination as Varsity Captain of the Robotics team; guiding her team to the Safety Award in last year's regional competition.. Carly Stagg enjoys championing humanitarian efforts. She has been on the Mississippi mission trip twice (last year as a leader), and is in charge of her Ronald McDonald House group.
The National Merit Scholarship winners of 2014 will be announced starting this April and will conclude in July. So be sure to congratulate the Academy seniors who have made the cut, and wish them good luck!
[slideshow id=345]
Leave a Comment
About the Contributor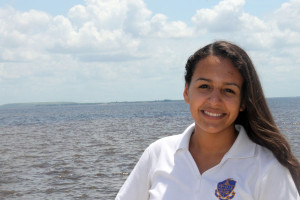 Mikela Mollanazar, Multimedia Editor
Mikela Mollanazar has been on staff for three years now, and her current position is Multimedia Editior. She enjoys spending her time creatively, either...