Will our Nation's poor go hungry? How AHN can help
In mid-September, House Republicans passed legislation that majorly cut the funding of SNAP, the Supplemental Nutrition Assistance Program, which regulates the food stamp industry.
With pressure from Tea Party conservatives, Republican leaders deemed the legislation necessary because the food stamp program had "grown out of control." They said the issue was that spending for the program was continuing to expand as the unemployment rate grew. The SNAP benefits are scheduled to be cut off on November 1. Every American household receiving food stamps will endure a cut. This could put millions of Americans below the poverty line.
Households of one will suffer an $11 cut, households of two a $20 cut, of three a $29 cut, and of four a $36 cut. That is a major blow when that money is many peoples' only source of income for food. The money that food stamps provide is scarce in the first place, so major cuts will virtually wipe out the funds. The cut amounts increase as the size of the families increase. Can you imagine how this will affect large families?
Conservatives become upset with people who receive any type of government assistance because many of the recipients are unemployed. However, we must remember that a large majority of the assistance funds go to children; innocent and helpless children. Over 22 million children and 9 million elderly citizens with disabilities will be affected by the food stamp cuts.
Florida House Representative Debbie Wasserman Schultz, chairwoman of the Democratic National Committee, told USA Today that Democrats are not totally against the cuts. The problem is the extreme amount the Republicans are proposing.
"I'm certain that we could embrace as House Democrats some measure of cuts… Every program can benefit from some savings. But the first go-round the Republicans' proposed to cut was $20 billion. Then, they passed an amendment that was $31.4 billion. And now that still isn't good enough for the Tea Partiers. Now we're at $40 billion. What they're saying is that in America it's OK for people to go hungry."
These cuts will majorly affect the amount of people that rely on charities for food. If people who formerly used food stamps to purchase groceries at retail outlets no longer have any or nearly enough food stamps to shop, they will have to rely on charities for their food needs. This means that charities will be in much higher demand for food donations and volunteers to help distribute it.
I am certain that Metropolitan Ministries will be one of the many charities in need of extra help and donations. As Academy girls thoroughly devoted to service, we all need to come together and help out one of Tampa's largest charities. Even if you are unable to volunteer, send any goods that you can donate. They need our help! Thanksgiving is approaching, a time we should really think of the less fortunate, and everyone deserves a happy holiday; so please help any way that you can!
Leave a Comment
About the Contributor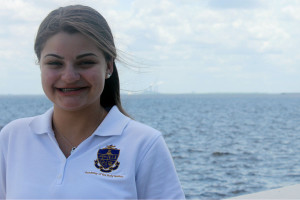 Cassidy Whitaker, Senior Staff Writer
Cassidy Whitaker is a staff writer for Achona. Her interests include current events and writing. In her spare time, she enjoys playing with her corgi and...