AHN missionaries help make Jonestown shine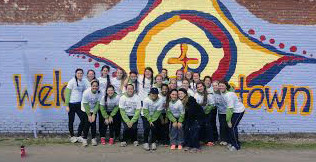 During Mini Course week at AHN, a group of twenty four girls and six chaperones traveled to Jonestown, Mississippi on a mission trip. This was Academy's twelfth year traveling to Jonestown.
After landing in Memphis on Sunday afternoon, the girls traveled by caravan to Jonestown. Although it is extremely impoverished, it is home to some of the kindest people in the whole world.  The work for the Academy missionaries began first thing Monday morning. The first task was fixing up the Resource Center by cleaning it up and repainting it. On Tuesday, the girls split up into three groups for the rest of the week. Two groups of girls worked on improving the landscape and conditions of two different homes, while others continued to work on the Resource Center.
Sister Kay was kind enough to yet again allow the girls to stay in her home and care for them. Sister Kay works with the people, especially the young women of the community help realize their dreams are possible.
Wednesday was the highlight of the trip for many because it was a chance to really spend time with the people of the community. The girls helped with the town clean up and teamed up with the kids to walk around. After a group lunch together in town, the missionaries and children of Jonestown participated in the annual walk-a-thon and a game of softball. Sophomore Christina Thompson "loved getting to know the kids on a personal level and realized they are no different than us."
Thursday and Friday were spent finishing up the jobs. It was a great reward seeing the faces of the people's houses that the girls had fixed up when they saw them. They were so appreciative of the work done, that it made all the hard work well worth it. Mrs. Debbie Lubrano, who attended the trip as a chaperone thinks "it is incredible seeing the relationships the girls have established with the people of Jonestown over the years and watching them grow each time they go."
Friday afternoon another trip highlight occurred: a trip to Arkansas. The girls were able to go to Arkansas and visit a little museum and walk around part of the Mississippi River. Not only was it great to see another state and culture, the girls really liked getting to share the memorable bonding experiences with one another.
On Friday night, the missionaries attended a fundraiser and dinner for Jonestown at Ground Zero. Ground Zero is a restaurant owned by Morgan Freeman in the nearby town of Clarksdale. Singing and dancing with everyone was a great way to end the trip. Senior Lizzie Emmanuel "thought it was great how all the people came together for a common cause."
Although they are now back in Tampa, the girls from the Mississippi mission trip will never forget the people of Jonestown that touched their hearts.