Class of 2015: New Kids on the 'Lot'
The class of 2015 gets ready to take over as the new senior class. With the Class of 2014 being official graduates, the Junior class is conflicted with nerves and excitement. Besides the nerves, the class is ecstatic and ready to be able to park in the Senior lot. Though it may not seem like a big deal, moving from the Junior Strip to the Senior lot is a huge relief. It'll save so much walking time and is so much closer to bridge that seems neverending at 7:30 in the morning. To kick off their "Official Senior Festivities", the Class of 2015 is having a tailgate to celebrate with breakfast, dancing, bonding, and singing to start off their day.
The girls all gathered in the lot at 7:00 am with breakfast and music. From donuts and bagels to orange juice and cookies, there was anything you could imagine. The girls were all wide awake and ready to begin celebrating as a class. Everyone with larger cars opened their doors and trunks, blared music and tried to enact a tailgate atmosphere as much as possible.
"I'm SO ready to be a senior! I've been at Academy since Pre-K, and have been waiting for this moment for so long. I'm so excited for this tailgate and hope we can all have a great senior year together!"
The girls spent their morning talking about senior year, thinking of what their class chant would be, how they're going to decorate the lounge, what food to keep stocked in the fridge next year and reminiscing on funny moments that have happened the past three years. The girls love to recreate moments like when Natalie Smith rapped "Super Bass" during the college planning day or having Kayla Rodriguez and Siobhan Lynch constantly sining at all times, even when they're not asked to. The girls spent a while inging to "Fergalicious", having Rachel Anderson challenge everyone to a dance-off, and Amber Orosco bringing her traditional cupcakes. There's no doubt that this class is going to be so close and have so much fun by the end of the year.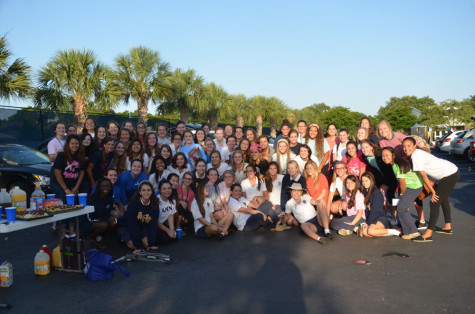 "I thought the breakfast tailgate would have a couple bagels and a couple donuts maybe, but it ended up being a huge success with many things. I hope we keep this tradition going and have more events to bond as a class throughout the year." Uprising Senior Cessie Mount describing the morning.
Not only did the girls bond in the morning, but during their Set 7 study hall the girls had a prayer service on body image. Mr. Kalinowski led the service along with readers from the Junior Class and Kayla Rodriguez singing many uplifting songs. The girls all sang along to girl empowerment songs such as "Firework" by Katy Perry, "Mean" by Taylor Swift" and "You are Beautiful" by Christina Aguilera. Mr. Kalinowski explained in the prayer service how the girls are going to be the new leaders of the school and need to be loving towards one another. "You girls are now the leaders of the school: go out there and love and teach us how to love." Mr. Kalinowski exclaimed to the girls. Overall, the day was spent bonding and coming to the tough realization that they are going to be seniors.