New class schedules are twice the change
For all Academy of the Holy Names girls that are beginning the
2014-2015 school year, the new schedule is double the change.  Last
year's schedule consisted of two main days (sets 1, 2, 3, 4) and (5, 6, 7,and 8). Every girl had study hall for set 7.
This year there is an eight-day rotation as listed below, which also includes different study hall sets.

Each class has a break in between, thus giving students more time in between classes: homeroom, break, and lunch. As to be expected, this schedule has fans as well as detractors.
Some students have benefitted from this change and admit that they love the schedule, especially having the built in breaks. As senior Jazmyne McCloud explains, "Having homeroom after the first class, gives me a chance to get myself together and relax before the next class."
Senior Anna DeGuzman agrees, "I absolutely love the breaks between classes, it gives me a breather, and a chance to finish any homework or studying that I couldn't get to the night before."
However, others do not prefer it because of the later dismissal which is  now 2:50pm instead of 2:45pm. While five minutes may not seem like a large change, it is that five minutes that makes such a difference for commuters.
Seventeen year old Katiana Roberts, lives in Town and Country: "Getting out later has not been helpful, I get home later because I hit all the traffic." This might be an issue for next year and should be taken into consideration. Other drivers such as  junior Karlee Nipper have a different reason for their dislike of the new schedule, "I like the new schedules, but I do not like how homeroom isn't first. Having homeroom first last year gave me a chance to finish homework or study more before I had to start classes."
Mrs. Wisniewski, curriculum specialist at Academy informs us, "The schedule so far has been a success and there are no thoughts to change it for next year, but things can always change. We changed the schedule this year to please those who wanted to have a longer break."
Academy girls always know how to make the best out of every situation; it has even started a new trend of Lilly Pullitzer agendas to help keep them organized.
Leave a Comment
About the Contributor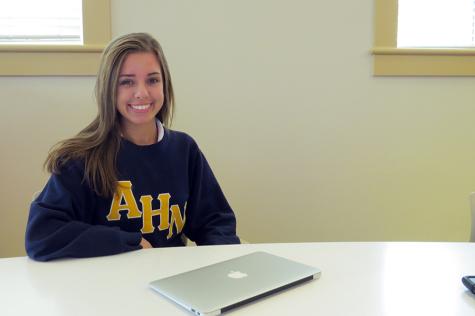 Gabby Cianfrocca, Senior Staff Writer
I'm Gabby Cianfrocca and I'm a senior staff writer. I can't wait to be entertaining others with my amazing stories for ACHONA. I enjoy long walks on the...