Flying Object on November 7 Strikes Alien Conspiracies
Grab your party hats, because there's about to be a huge Aliens-Taking-Over-Earth party. At least, that's what twitter users all over the country decided with a trendy hashtag.
Late at night on Saturday, November 7, an unidentified flying object lit up the night sky over the coastline of Southern California. Images of this object quickly surfaced on the internet and went viral via Twitter, Instagram, etc. The pictures of this (comet? meteor? rocket? alien spaceship?) seemed to show a bright circle of light dragging a blue-green trail of smoke. Think: the whole world was looking at the same cosmic enigma with no substantial proof of what it could be. Cue international panic and assumptions of alien invasions.
The radical speculation was put to rest when the U.S. military made a statement the following day. They explained that the flying object was a scheduled missile test flight from a U.S. Naval submarine. The Pentagon made a statement, saying, "Launches are conducted on a frequent, recurring basis to ensure the continued reliability of the system. Each test activity provides valuable information about our systems, thus contributing to assurance in our capabilities." Cue disappointment and a lot of people turning in their Alien pinatas.  Although a lot of Americans were relieved to hear the doomsday party was cancelled, some people are still reluctant to believe the government just so easily.
@ObservingSpace ||if the Navy Would TEST A MISSILE NEAR A HUGE CITY I'm APPALLED. Cover up of a UFO, Watch The Videos, It hovers.

— kristen h (@kristenhinkson) November 8, 2015
https://twitter.com/ZeroDarkRadio/status/663387384994631680
In fact, Academy senior Gillian Dunne admits that even she is a little skeptical about the flying object being a missile launch. She says, "It seems odd that the navy claimed to conduct the launches frequently and regularly, because I feel like we would have seen more pictures of the same flying light from internet users on the West Coast all the other times they launched the missiles. I have no reason to believe anything otherwise, but I can see how people are doubtful." Likewise, freshman Regan O'Leary says she has no evidence to think that extraterrestrial activity was behind the enigma but she exclaims, "Real life aliens would be SO cool! I love getting into the different alien conspiracies." But junior Bella Guerra thinks otherwise. She states, "Obviously aliens aren't real. I think it's weird how people still think that the object was an alien spaceship when the Navy told everyone what it really was."
Whether you agree with the conspiracies or not, you have to admit, partying with aliens sounds like a twelve on a scale of one to ten. For now, the #AliensTakingOverEarthParty is cancelled, but maybe someday we can enjoy ourselves in a dance off like this one:
About the Writer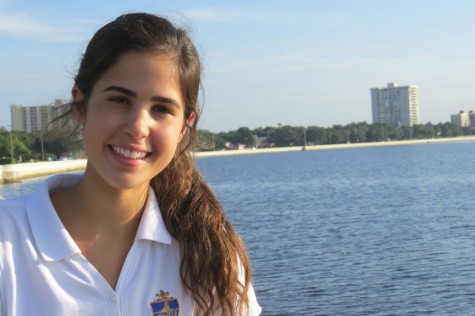 Isabella Alfonso, Senior Staff Writer
Isabella Alfonso is an Academy Senior, a third-year journalist and Senior Staff Writer for Achona. She is in Teen Leadership Council at school, is a cheerleader...