Starbucks' cup controversy causes much anger to Christians across the nation
Since 1997, Starbucks has released holiday themed cups for the Christmas season. In the past there have been ornaments, reindeer, snowman, and more on these much anticipated coffee cups. These iconic Christmas themed cups used to be Starbuck's signature way to get their customers into the Christmas spirit. With the release of the 2015 holiday design, much controversy has broken out, resulting in once loyal customers choosing to boycott the coffee franchise.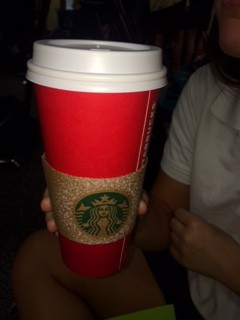 The problem customers, specifically Christians, have with the simplistic design is the lack of blatant Christmas designs on the cup. People have resulted to expressing their displeasure on Twitter and labeling the controversy as a "War on Christmas." Celebrities and political figures have stated their opinion on the issue and the views vary from indifference to total outrage in the company.
Also, why do we care this much about a cup….?? ???

— Demi Lovato (@ddlovato) November 10, 2015
Donald Trump might boycott Starbucks because of those all-red holiday cups: https://t.co/FQMNGzyiJN pic.twitter.com/QYu0VReCw3

— Yahoo POP (@yahooPOP) November 10, 2015
The nation wide argument over these iconic cups has not stopped Academy girls from getting their dailey morning coffee. Sophomore Kayla Eckerman commented "I don't see the big deal. It is just a coffee cup. Putting on snowflakes and Christmas trees does not change anything. " Other Academy girls have a different veiw on the subject. Senior Mollie Johnson thinks "Why would you want to hide the fact that you celebrate Christmas. We as Christians should want to celebrate our faith, not hold it back."