Kathryn Smith: Started From the Bottom, Now She's Here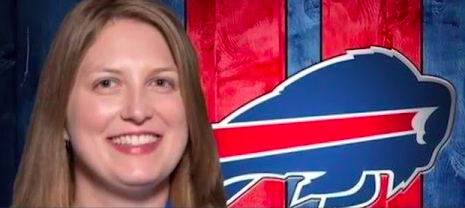 Kathryn Smith became a historic figure on Wednesday, January 21, 2016 when the Buffalo Bills announced her as the new Special Teams Quality Control Coach for the Bills. She is the first full-time female assistant coach in NFL history.
Before this promotion, Smith worked as the administrative assistant to head coach, Rex Ryan of the New York Jets in 2003. She also served as a college scouting intern and a full time player personnel assistant. Now, as a Quality Control Coach for the Bills, Smith will be in charge of breaking down videos to learn an opponent's tendencies and report those findings to their position coach. She is thrilled to have a more hands on role with the team.
"It's been pretty extraordinary, the reaction, and I realize that it's groundbreaking. I might be the first, but I think very quickly there are going to be many other women in the league . . . I don't think I'll be the only one for very long", stated Smith.
ICYMI – NY1 feature on former #SJUBB manager Kathryn Smith WATCH https://t.co/Xbwp5Lq4CV pic.twitter.com/oNHRxeNjic

— St. John's BBall (@StJohnsBBall) January 26, 2016
Smith overcame obstacles and faced doubters who told her she would never be able to get where she is today, but she stayed confident and pushed to achieve her goal.
Ryan stated, "She certainly deserves this promotion based on her knowledge and strong commitment, just to name a couple of her outstanding qualities, and I just know she's going to do a great job serving in the role of Quality Control-Special Teams."
What coverage of Kathryn Smith says about expectations for women in sports @donnovanbennett https://t.co/imk8XesGL0 pic.twitter.com/kMk6KhIYKI

— Sportsnet (@Sportsnet) January 27, 2016
Jen Welter, who broke the NFL's gender barrier as a Cardinals training camp coaching intern, said, "My biggest hope is they let her be great where she's great. Don't try to make her something that she's not."
Kathryn Smith has inspired women all over the United States to break through the "glass ceiling", that invisible barrier that holds women back from getting to the top. Now more than ever, women need other women to provide the encouragement to take a risk and exceed their limitations.
"You can criticize her, but the only thing she's done so far is get hired & be a woman"-@katienolan on Kathryn Smithhttps://t.co/p31dtw2kzP

— Garbage Time (@GarbageTime) January 28, 2016