Leonardo DiCaprio Finally Wins an Oscar!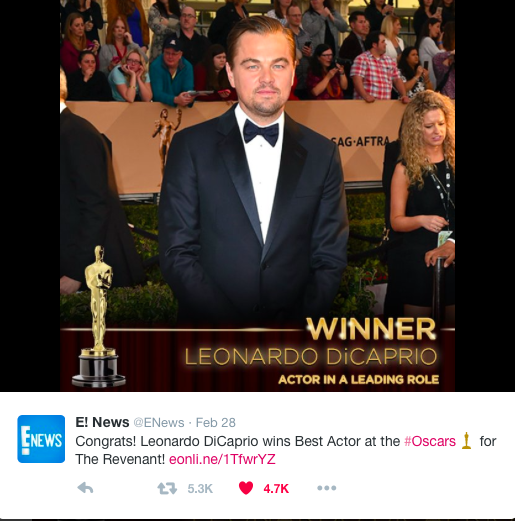 Leonardo DiCaprio a 41 year old actor attended the 2016 88th Academy Awards, no doubt looking spiffy in a smart tuxedo, as he has done on many previous occasions.  DiCaprio has never won a single Oscars all of his years of acting and in so many movies. These are the six nominations Leonardo has been nominated for the Oscars,
1993 the movie, What's Eating Gilbert Grape nominated for Best Supporting Actor didn't win.
2005 The Aviator nominated for Best Actor didn't win.
2007 Blood Diamond nominated for Best Actor didn't win.
2014 The Wolf of Wall Street nominated for Best picture didn't win.
2016 Revenant nominated for Best Actor and Won!!
Finally!! #Oscars #TheRevenant #LeonardoDiCaprio pic.twitter.com/XGRzY1R1Kz

— Millionaire Mindset (@IntThings) February 29, 2016
Credit: Twitter/@IntThings
He finally did it he got his first Oscars after six nominations over the past years it was for Best Actor. DiCaprio's reactions and speech were amazing even all his fans were beyond excited for him tweets going out to him for how amazing of an actor he is. He truly has deserved it . Tweeter feeds have been blowing up when DiCaprio got called up to receive his award. Academy girls have mentioned how excited they were for him as well as randoms on Twitter
Congratulations to all of tonight's #Oscars winners! pic.twitter.com/YOp04hk94S

— The Academy (@TheAcademy) February 29, 2016
Credit: Twitter/@TheAcademy
Senior Gillan Dunne shares, "I love Leonardo DiCaprio he deserved all the attention he received for wining his Oscars for the first time I'm truly happy for him as a fan and will continue to hope for the best for the rest of his career"
Leo's has won his very first Oscar and his fans are very excited for him. After the uproar of not winning last year they were all relieved and ecstatic that he won this year, after six nominations for the Academy Awards.
Leo winning an Oscar should motivate you to keep texting that girl who always curves you because hard work and determination pays off.

— Mike (@SayitaintSchiff) February 29, 2016
Credit: Twitter/@SayitaintSchiff
LEO FINALLY WON AN OSCAR

— Caroline Pope (@thepopecaroline) February 29, 2016
Credit: Twitter, @thepopecaroline
Leonardo DiCaprio's acceptance speech at the Oscars was certainly one for the record books. He thanked his parents, as so many winners do, but the actor remained composed and focused on his political beliefs. He has waited  22 years  to receive an Oscars and has accomplished his dreams here is a video of his full speech.
LEO'S FULL SPEECH

RT TO SAVE A LIFE https://t.co/IDXU6zalBU

— mean plastic (@meanpIastic) February 29, 2016
Credit: Twitter/@meanplastic
Thank you to the Academy and the incredible cast & crew of #TheRevenant. #Oscars

— Leonardo DiCaprio (@LeoDiCaprio) February 29, 2016
Credit: Twitter/@LeoDiCaprio