Saying Goodbye to an Irish Smile: Monsignor Higgins Passes away at age 87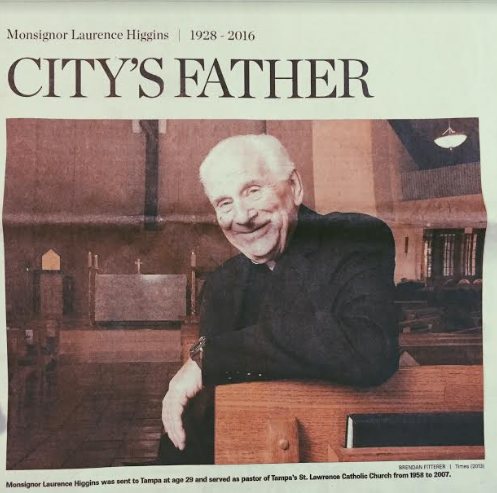 Sophia Bahr, Arts and Entertainment Editor
August 29, 2016
Tampa has lost one of it's most noble men. Monsignor Laurence E. Higgins died last Wednesday, August 24 at his parish home nearby his founded St. Lawrence Catholic Church and School. He was 87.He served the Tampa community for over fifty years, starting by attaining a cow pasture in 1958 on Hillsborough Avenue, where he was told to,"build a parish" by the archbishop upon his arrival in the Bay Area.
There, he started his parish-St. Lawrence Catholic Church and School, which made a lasting impact on the lives of many Tampa natives through both a welcoming church and an opportunity for education. A funeral service will be held at 11:30 in the morning on Wednesday, August 31.
Our own Sister Mary Glavin gives her respects and says,
"He was always, friendly, cheerful, interested, gregarious and got to the core of what he wanted to talk about."
Senior Megan Przedpelski and mom, Karen Przedpelski plan to attend the funeral. She says, "He was such a memorable man and so many will be at his funeral. So many faces old and new in memory of him. He has made such an impact." Przedpelski later laughs, "He was almost a Tampa celebrity."
Higgins' passing has truly struck many of us, as many Academy girls were brought up and attended St. Lawrence for grade school.He was there to celebrate many coming of age sacramental rites sacred to the Catholic faith, as the acting priest for the ceremony.
Sophomore Isabella Bahr recalls a time when Monsignor was there for her family. She says, "when my grandfather was sick many years ago, my mom contacted him to perform Last Rites. Within an hour, Monsignor was present at the hospital bible in hand and ready to anoint my grandpa in his last days. His presence meant so much to our family."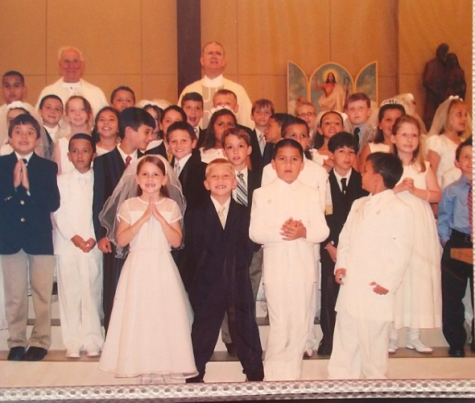 On the morning of his passing, St. Lawrence released a statement on their website, "As we gather for this celebration of his life, please pray for the repose of Monsignor's soul and in thanksgiving to God for sending us this wonderful priest and friend."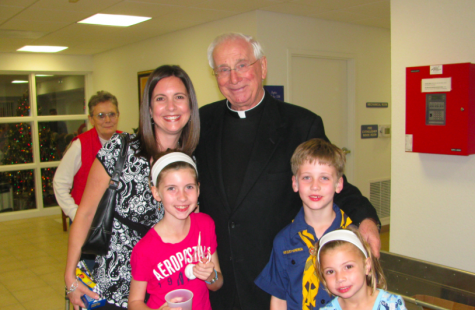 About the Contributor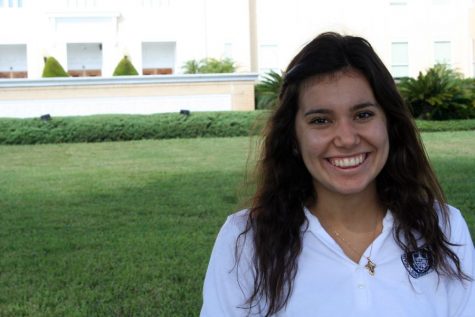 Sophia Bahr, Arts and Entertainment Editor
Sophia Bahr is the ACHONA's Arts and Entertainment editor and an Academy senior. This is her second year on the ACHONA staff. After school Bahr can be...