Academy Girls React to Ryan Lochte Protesters on DWTS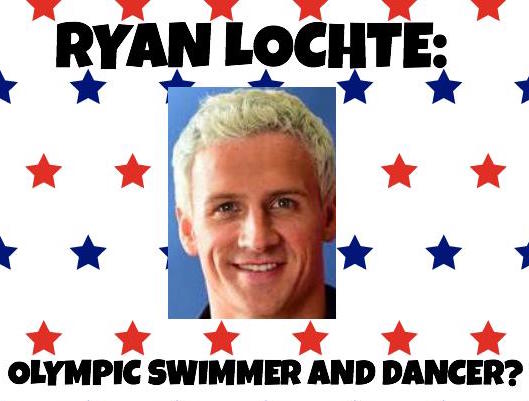 Olympic gold-medalist swimmer, Ryan Lochte, has recently joined the Season 23 cast of Dancing With The Stars. Following his recent scandal regarding a falsely stating he was held at gunpoint during the Rio Olympic Games, placed a dark cloud over Lochte's reputation. Lochte, devastated by his own deceiving, searched for a second chance to win back America's hearts.
Lochte is teamed up with professional partner, Cheryl Burke, and is determined to win the Mirrorball (championship) trophy against other competitors, such as Olympic gymnast, Laurie Hernandez, and retired NFL player, Calvin Johnson J.
A sneak peak of our #DWTS costumes 4 the premiere tomorrow! What color do u think #teamcherloch will be wearing? ??? pic.twitter.com/TKfbIkq5Dw

— Cheryl Burke (@CherylBurke) September 12, 2016
After the swimmer danced a classy foxtrot during last Monday night's premiere, Lochte faced an alarming interruption by a group of "Anti-Lochte" protesters. The two men wore "Anti-Lochte" t-shirts and ran onto the stage while Lochte was receiving critiques from the judges. Other protesters were also found among the audience chanting, "liar." Following the quick transition to commercial break, the protesters were immediately removed by security.
After the show, the press eagerly waited for Lochte to hear his point of view of the situation. Lochte responded by saying, "You know, at that moment, I was heartbroken." He was also quick to reassure how grateful he feels to be given a second chance, "I don't know how to dance, and I gave it my all and I'm glad I did it and I'm glad I'm here."
Senior, Jhuztin Honrado comments, "The protesters' approach could be perceived as violent, but I think the whole thing was overdramatized."
Another Senior, Anne Marie Yatsula advocates for Lochte despite his poor word choice, "The word "heartbroken" doesn't really fit the situation; I would feel mortified. However, he's just adorably idiotic."
Recently, the two protesters that ran on stage revealed their motive behind the turmoil. One revealed that "Lochte is a coward, a liar, and under Brazilian law, a criminal." The other commented that the swimmer, "embarrassed Americans on the world stage." Both are referring to Lochte's scandal during the games that caused a dent in his reputation that the swimmer is trying to rectify.
Ryan Lochte protesters defend their DWTS ambush: "Our purpose is to get the message out."
Sophomore, Lauren Harris understands the protesters' point of view but does not necessarily agree with how they delivered their opinion, "They have the right to express how they feel, but they shouldn't have went on stage on national television when kids could be watching. Also, everyone deserves a second chance, despite Lochte's errors."
The night that was supposed to be Lochte's revival suffered an unnerving interruption that left the audience, and Lochte himself, shaken.
To see Lochte and Burke's foxtrot, click here
Dancing With The Stars airs Mondays at 8/7c on ABC.
Here we go #DWTS #teamcherloch https://t.co/TJcJCljr38 pic.twitter.com/IjVsRsvJHZ

— Ryan Lochte (@RyanLochte) September 12, 2016