March for Our Lives Tampa
April 19, 2018
On Saturday, March 24, 2018, thousands gathered at Tampa's downtown to participate in the March for Our Lives event. March for Our Lives advocates for positive changes in gun reform, student safety, and legislative action. The recent school shooting at Marjory Stoneman Douglas High School in Parkland, Florida sparked the protests.
Nineteen-year-old, Nikolas Cruz, entered the high school and fatally shot 14 students and 3 faculty members on Wednesday, February 14, 2018.
On March 24, protests and demonstrations took place across the country, with over 800 taking place all across the world. While the main march was held in Washington D.C., an estimated 15,000 came to march in Tampa. Students and teachers from Academy attended the event.
.@WFLA Huge Turnout!!!! An estimated 15,000 people for the Tampa #MarchForOurLives @CityofTampa pic.twitter.com/6s2YQXvpmh

— Eagle 8 WFLA (@8_plamison) March 25, 2018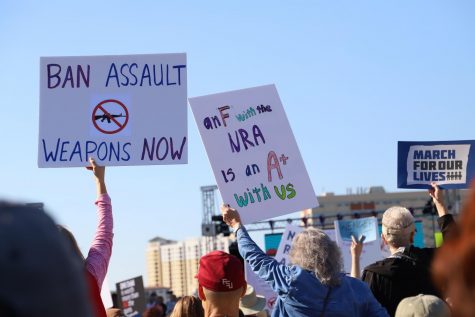 AHN Students and Teachers
Art Teacher, Sister Lisa Perkowski says, "I was actually a junior in high school when Columbine first took place, so I really resonate with what you're all feeling. Schools should be a safe place for all to learn and grow. The last thing we want is guns because, as teachers, we want to teach you all to live and be civilians armed with knowledge and truth and goodness."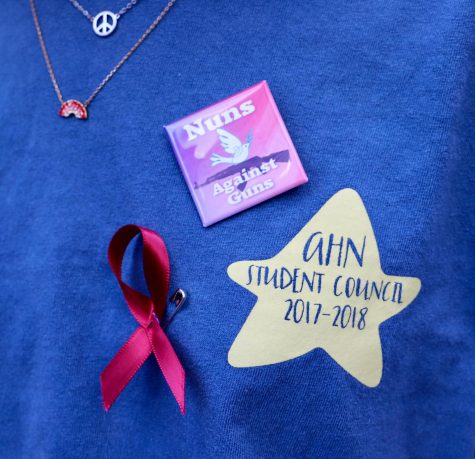 "It's important for everyone to get involved – most importantly students if we're the ones who are the most affected by this issue. If we don't speak up, no one will. It's clear that our generation is going to be the one to change this," says Mia Leto ('18).
Victoria Huerta ('21) says, "I hope to see real change and more understanding with people and why this march happened at all. I also hope to see more unity."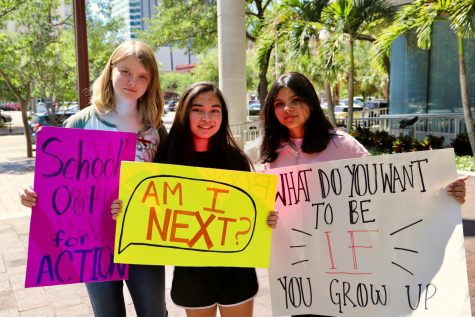 Achona was able to interview high school and college students who organized the march in Tampa.
Savannah Lowry, a senior from H.B. Plant High School, says, "I  am personally here today because I am ready for change, I am tired of seeing so much tragedy. Since 2016 alone, there have been 36,000 gun related deaths in the U.S. Florida is 3.5 times over the average of gun related deaths, so there obviously needs to be change happening. I am here more than anything to show that students have a voice and we're going to march and demand change."
Isabella Marchese, a senior at Blake High School, says, "I'm here like everyone else advocating for student safety and better gun control. A big thing for me is it's not just student safety, it's the safety of everyone around us, in our community and in our state."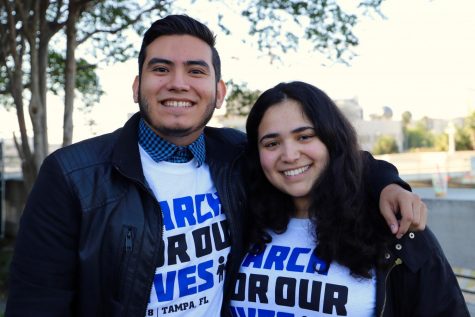 "We're here today because we are reading an open letter that we wrote about gun control regulations and the lack of control. I think all change comes from the youth, I think the youth the have an idea of what they want their futures to be, and if they don't see that they're going to want change. most modern civil rights movements have been student led and I think that it's often that we're stepping up to the plate now and working together to form a better future," says Salud Martinez, a student at the University of South Florida.
SaveSave