Florida Conducts Primaries for Governor
September 13, 2018
On August 28, 2018, primary elections were held for Florida's governor. The two emerging nominees include Republican Ron DeSantis and Democrat Andrew Gillum. DeSantis won with 56.5% of the Republican vote. Gillum won with 34.3% of the Democratic vote.
"I was surprised about the outcomes of both parties," says Latin teacher Ariana Louder.
A governor serves as the chief executive officer of a specific state. They are responsible for implementing state laws and overseeing the state operations. Governors are elected directly by the people of the state, and in Florida they serve four-year terms. Current Florida governor Rick Scott is term-limited and unable to run this year for re-election.
DeSantis favors the repeal of ObamaCare and the relocation of America's embassy in Israel to Jerusalem. One of his main focuses is to assist veterans suffering from post-traumatic stress and combating radical Islamic terrorism. President Trump endorses DeSantis.
According to Desantis' website, his main issues of concern include: opposing tax increases, stopping common core education, stopping illegal immigration, improving water quality, appointing conservatives to Florida Supreme court, adding pro-life legislation, protecting second amendment rights, and "…defend[ing] first amendment speech rights against those in academia, media and politics who seek to silence conservatives."
DeSantis graduated from Yale University and went on to study at Harvard Law School. While at Harvard, he earned a commission in the US Navy as a JAG officer. Later, DeSantis went on to be the representative for Florida's sixth district.
Gillum is in favor of a rise in corporate tax levels to increase funding for public schools and federal legislation to assist Puerto Rico. Unlike DeSantis, Gillum is against President Trump. Vermont senator and previous presidential candidate Bernie Sanders endorses Gillum.
According to Gillum's website, his main issues of concern include: criminal justice reform, equal opportunities in education, providing legislation to help end global warming and climate change, gun safety, universal health care, rights for immigrants, LGBTQ, and women's equality. He will "always ensure Florida is a welcoming and safe place for everyone, no matter where they come from, who they love or how they identify."
Gillum was the first in his family to graduate from college. His mother was a bus driver, and his father was a construction worker. Gillum was the youngest person in Florida history to be elected to the Tallahassee City Commission. He later went on to become mayor of Tallahassee.
If Gillum is elected, he will be the state's first black governor. However, Florida Democrats have not won the election since 1998.
With candidates of vastly different experiences, policies, and political views, many of Academy's community have been paying close attention to the race.  
"Since both candidates are supported by the totally other side, there is even more of a reason to vote. The election will be really interesting to see," says Amelia Cuttle ('21).  
I'm thrilled to welcome @ChrisKingFL as our Lt. Governor! It's time to rebuild Florida for everyday people, and Chris is going to be instrumental in our work. Let's #BringItHome! pic.twitter.com/Cx54CPmcyj

— Andrew Gillum (@AndrewGillum) September 6, 2018
On Thursday, September 6, both candidates announced their running mates for the November elections. DeSantis selected Jeanette Nuñez, a Miami state representative. She is the first Cuban-American woman to become a candidate for lieutenant governor in Florida. Gillum selected his former opponent Chris King, an Orlando-based businessman.
Some students have shown their support for DeSantis.
"Being a Republican, Ron DeSantis seems like a great guy. He seems responsible with good character and work ethic," says Sophia Arnold ('20).
JUST IN | Ron DeSantis names Miami state Rep. Jeanette Nuñez as Florida's first Cuban-American female running mate. #Florida pic.twitter.com/5U0llH56gO

— News4JAX (@wjxt4) September 6, 2018
Sofia Tweed ('20) favors his focus of caring for veterans.
"He's done a lot of efforts to help veterans after the war. I think that is super important, especially after I spent some time with veterans this past weekend for Quarter Notes. Meeting and singing for veterans made me realize that helping them is just another way to give thanks for their service. It's a way of saying thank you for all they've done for us," says Tweed.
While other students have shown their support for Gillum.
"It's not hard to choose between the two candidates. One is a Republican who strongly supports Trump. He may be the obvious choice if you agree with Trump's policies. However, Gilliam, on the other hand, has no pride in politics. He's not trying to build his ego or focus on being partisan. He is trying to help support the people of Florida," says Gabriella Morrison ('22).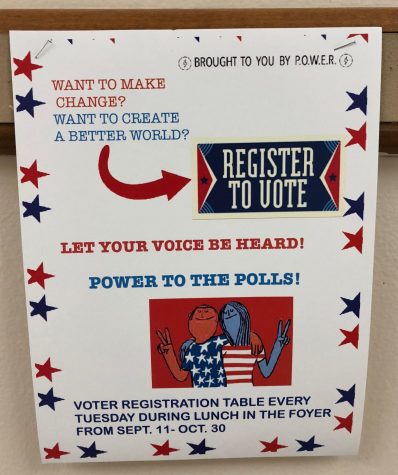 From September 11 to October 30, Academy's Power club will have a voter registration table every Tuesday during lunch for any Academy student who wants to register. Power hopes to spread awareness of the importance of voting.
"Registering early to vote gives students the time to think on how they wish to go about voting in upcoming elections. For example, do seniors want an absentee ballot mailed to them if they leave Florida for college? Do they want to register with a particular party? Registering early allows students to avoid missing essential registration deadlines that preclude election dates," says Co-President of Power Club Greta Dieck ('19).
Academy students have expressed their favor of the registration opportunity.
"It's important to voice your own opinions. If you don't speak up for what you believe in, your opinion won't be heard, and the issues you care about won't matter," says Casey Martin ('20).
The deadline for registration is October 30. The elections for Florida governor will take place November 6, 2018.