Inside the COVID-19 Vaccine: What You Need To Know
February 23, 2021
The long-awaited COVID-19 vaccine, first administered to New York ICU nurse Sandra Lindsay, has Americans waiting with bated breath. Both skeptics and believers alike agree on one thing — this vaccine is certainly revolutionary, but what does it really do?
Like all vaccines, the COVID-19 vaccine is an injection which exposes the body's immune system to the disease. The Pfizer vaccine in particular has been approved by the FDA for  emergency use only and is 95% effective in preventing COVID-19. The vaccine does not contain the virus specifically, but the side effects of the vaccine have been known to mimic COVID-19 symptoms. The vaccine contains mRNA, lipids, potassium chloride, monobasic potassium phosphate, sodium chloride, dibasic sodium phosphate dihydrate, and sucrose.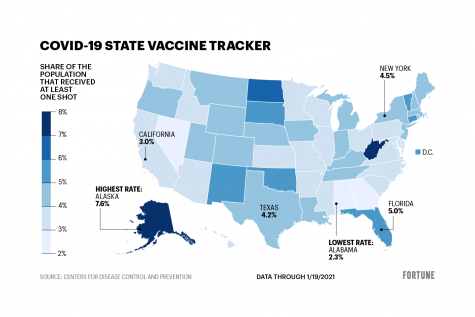 The first doses of the Pfizer vaccines were given in Israel. Close to 90% of people aged 60 and older have received their first dose of Pfizer's COVID-19 vaccine. Data collected by Israel's Ministry of Health show that there was a 41% drop in confirmed COVID-19 infections in that age group and a 31% drop in hospitalizations from mid-January to early February. In comparison, for people aged 59 and younger, (about 30% have been vaccinated) cases have dropped by 12% and hospitalizations by 5% over the same time frame. 
As of right now, the countries administering the COVID-19 vaccine include the US, the UK, India, Chile, Brazil, Israel, France, Germany, Indonesia, Turkey, Morocco, Spain, Italy, Romania, Saudi Arabia, Sweden, Canada, Greece, the Netherlands, Poland, Slovakia, Czechia, Austria, Bahrain, Serbia, Denmark, Croatia, Finland, Mexico, Hungary, Oman, Sri Lanka, Myanmar, Bulgaria, Belgium, Maldives, Singapore, Lithuania, Malta, Bolivia, Argentina, Norway, Gibraltar, Panama, Seychelles, Bangladesh, Luxembourg, Portugal, the Isle of Man, Latvia, Slovenia, Ecuador, Estonia, and Algeria. 
According to the WHO, vaccines train immune systems to create proteins that fight disease, known as "antibodies." This happens when people actually have the disease as well, but vaccines work without making individuals sick. Vaccinated people are, therefore, protected from getting the disease in question and passing on the pathogen, breaking any chains of transmission. To attain "herd immunity" (also known as population immunity) against COVID-19, the population must become immune either through vaccination or immunity through previous infection. The WHO supports achieving "herd immunity" through vaccination, not by allowing a disease to spread through any segment of the population, as this would result in unnecessary cases and deaths. The WHO also states that to safely achieve herd immunity against COVID-19, a substantial proportion of a population would need to be vaccinated, lowering the overall amount of virus able to spread in the whole population.
The COVID-19 vaccine utilizes a new technology known as mRNA. Researchers have been studying and working with mRNA vaccines for decades, however, they are useful for the COVID-19 vaccine in particular because they can be developed quickly in a laboratory using readily available materials. They have been studied before on the flu, Zika virus, rabies, and cytomegalovirus (CMV). 
The most important thing to understand about the vaccine before dismissing it completely is that the new mRNA technology it uses does not actually contain the virus, or a weaker version of it, which separates it from previous vaccines. It, instead, replicates the disease to allow the human body to build up immunity to it. COVID-19 contains proteins called spike proteins.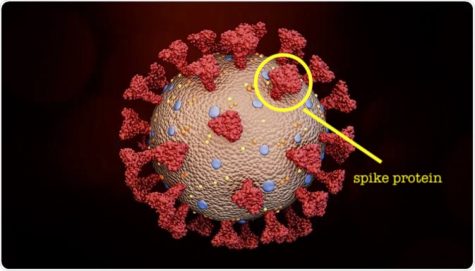 The genetic code of these spike proteins is what's being copied in the vaccine, meaning that the body is exposed to the code of the virus instead of the virus directly, which helps the body's T-cells fight off the virus before it ever gets actually exposed to it. 
As soon as the information about what causes COVID-19 was available, scientists began designing the mRNA instructions for cells to build the unique spike protein into an mRNA vaccine. 
AHN Alum Lindsey Backman (A'11), who works in research at the Massachusetts Institute of Technology, studies and crystallizes proteins to replicate them, similarly to the mRNA technology in the COVID-19 vaccine. 
Backman said, "There are two main ways for scientists to produce vaccines. In the past, the best technology has been protein-based vaccines. We have ways, in the lab, to produce a ton of protein, so some methods have been making just the spike protein. You cannot get the virus from this vaccine because there is no actual coronavirus in it. You're literally just receiving the spike protein. All of the DNA that makes the protein harmful is not even in the vaccine. This new technology, however, scientists have been working on for decades. Instead of giving them the protein, we're giving them the genetic code to make the protein once it's in a human cell."
The state of Florida is prioritizing people 65 years of age and older and healthcare personnel with direct patient contact and residents and staff of long-term care facilities. Beginning last Friday, Floridians now have access to COVID-19 vaccines at retail pharmacy locations. The state has also announced a pre-registration system to schedule COVID-19 vaccinations for priority populations. Registration is available both online and over the phone. 
High School Mathematics Department Head and Teacher Jenny Van Pelt said, "As a matter of fact, I have gotten both of my vaccines and had no side effects from either dose.  I wasn't sure at first about getting it just because it is new, but my brother got covid-19 and had pneumonia in both lungs. Now I am glad I did get the vaccines and hope that as soon as others have the chance to get vaccinated, we can resume a more normal way of life."
Unfortunately for children and students, especially college students, the number of COVID-19 cases continue to climb, and they are unable to receive their vaccines unless they have a very serious health condition that puts them at extreme risk should they contract the virus. The general population, aged 16 and over, is scheduled to start receiving vaccines in spring of 2021, and it could be months before a vaccine is even developed for kids under 16.