An overview of Trump's legal standing
April 23, 2023
On March 31, former president Donald Trump was indicted regarding an alleged affair from 2006.
The indictment revealed that prosecutors allege Trump falsified business records in the first degree, including at least one felony offense, during the 2016 election campaign in order to cover up alleged "hush money" for the affair. He has pleaded not guilty to 34 felony counts. 
"I think Trump's indictment is warranted because the former president should not be immune to the law and the consequences of his actions," says Lexline Johnson ('23).
Indictments, for those unaware, are used to decide whether there is enough evidence for a trial or not.
If we consider the timing of the indictment of Trump to be part of The Ides of March, then we might be able to say that Karma has finally caught up with him.

— BlueOceanGal 🇺🇸🇺🇦🏳️‍🌈🐱🌮💙🌻 (@BlueOceanGal1) March 19, 2023
Currently, this indictment marks the first time in history that a former American president has been indicted on criminal charges.
"I think that the legal evidence shows the truth and therefore there shouldn't be any pushback regarding the indictment," says Nora Kelly ('25).
Around the world, other former leaders have been put to trial, showing that not every politician has a perfect record. Italy, France, Canada and South Korea are a few countries with indictments of well-known politicians.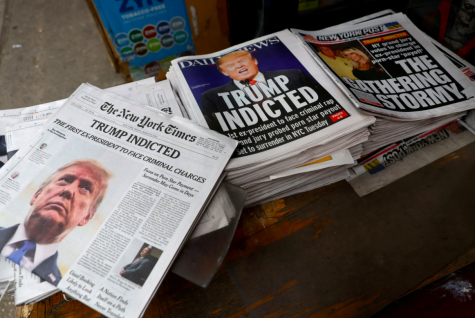 The Manhattan case is the longest running criminal inquiry that Trump is facing. But it's not the only one Trump is facing.
A criminal investigation is also ongoing regarding classified government documents seized in Trump's south Florida residence, Mar-A-Lago. The Justice Department has suggested that the classified documents were most likely concealed and transported when the government wanted to retrieve them.
"It's concerning that a person with so much power is facing criminal charges," says Juliana Yanez ('23). 
 Another inquiry is also taking place in New York, this time a civil case. The attorney general of New York, Letitia James, accuses Trump of lying to insurers and lenders by overvaluing assets by billions of dollars. But this suit is civil, so he will not face criminal charges.
Another criminal inquiry is ongoing involving Trump's efforts to interfere with election results in Georgia during the 2020 presidential election. Prosecutors are expected to make a decision regarding whether to seek indictments against Trump and his allies.
The most notable legal trouble Trump is facing is surrounding the events of January 6, 2021, when Trump supporters stormed the capital to overturn the election results, and accuse him of inciting insurrection. 
With these inquiries and investigations, Trump's legal fate hangs in the balance.