On Tuesday, October 3, 2023, Kevin McCarthy, the Republican Speaker of the House, was voted out. Essentially, the Speaker of the House leads discussions in the House of Representatives and directs debate over new laws. Right now, the position is left vacant, and there is no real leadership in the House. This is the first time a House leader has been forced out of Congress in US history, and it has sent the nation into unrest without a person to direct the legislative agenda.
The vote was 216-210 against McCarthy, with both Democrats and far-right Republicans voting against him. While these Conservatives have been teaming up against McCarthy for some time, they ran out of patience the weekend of September 30th after he sided with the Democrats to avoid a shutdown of the federal government. Right-wing Representatives felt this deal allowed the government too much federal spending, but McCarthy and President Biden felt it was necessary to keep the government running.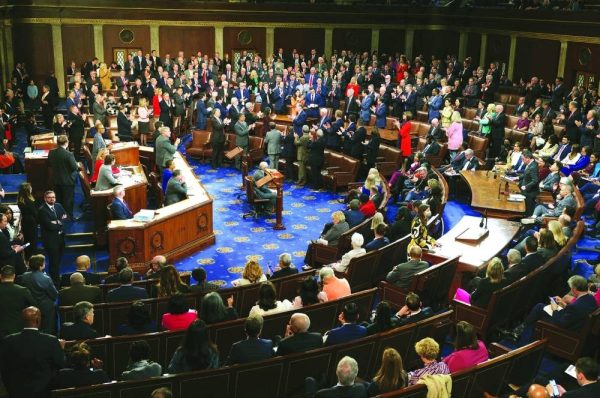 After McCarthy passed this, the House opened a floor debate, sort of like a mini-trial in Congress, in which all members of the House of Representatives voted on whether McCarthy should keep his position. This practice is very uncommon in today's society, and it ended with the decision to have McCarthy vacate his position as the Speaker of the House. Representative Matt Gaetz led the vote to oust McCarthy, stating that "Chaos is Speaker McCarthy", as the more extreme Conservatives felt they could not trust him to ally with them on certain policies.
I will not seek to run again for Speaker of the House. I may have lost a vote today, but I fought for what I believe in—and I believe in America. It has been an honor to serve. https://t.co/4EMpOuwtzy

— Kevin McCarthy (@SpeakerMcCarthy) October 3, 2023
After McCarthy was escorted out, the House fell into chaos without a leader. While many of his supporters disagreed with the motion, it was a victory for the far right, as well as the Democrats, who no longer have a Republican House leader. McCarthy walked out calmly but stated that he had no intention of reclaiming his job as Speaker. Still, McCarthy reiterated that he "will never quit" in the political realm.
Today, the House is in disorder with no leader and a divided Republican party. Representative Patrick McHenry was named Speaker pro tempore (literally meaning "for the time being"), but this is only a temporary option, and a new Speaker of the House will have to be elected soon.
For now, Americans will wait on the edge of their seats to see what happens in Congress.