AHN Should Keep the New Schedule (OPINION)
May 13, 2021
This school year, AHN students and staff members have had to adjust to a new schedule due to COVID-19. With life starting to return back to normal, it has been decided that the high school will go back to the old schedule from the previous school years. However, many of us students don't want to go back, and would prefer to keep the new schedule.
This new schedule moved advisory time from after the first period to the middle of the day— or after our third class. It also shortened the length of classes by five minutes. Additionally, for the underclassmen, lunch is now at 12:05 instead of 12:55. These drastic changes in scheduling feel like a blessing to us students– midday advisory, a longer lunch, and slightly shorter classes are amazing. 
Last year, lunch was one block and began at 12:55, and the final set of the day began at 1:30. In a rush to get to the cafeteria amidst the large barrage of starving students, I had barely any time to eat my food before having to pack it all away and head back upstairs. There were many days where I left the cafeteria with half-eaten food in my bag. Now, there isn't a big rush to get down the stairs with the two separate lunch blocks, and there is always enough time to finish eating. 
"I think it's nice to have lunch and then chill in advisory," said Adele Politz ('23).
Another change students enjoy is the midday advisory. Having advisory in the middle of the day is a breather, and gives us a break and chance to relax. It gives students some time to talk with our classmates, and gives us time to look over schoolwork if we have a test in our last class, without taking away time from eating. 
The most well-received change has to be the early-release Wednesdays. Students get out at 1:00, almost two hours earlier than before. The general consensus among students is that early release is a great change, and provides so much more time in the day after school. This is a huge benefit as opposed to the usual late start, where students would start classes at 8:45am  instead of 8:00am every Wednesday. 
"I think late start is pointless because everyone seems to benefit more from early release. The students have half the day off to see their teachers, catch up on school work, or whatever else they need to do but don't have time for because of school. Teachers have time to talk to their students, go to meetings, and catch up on their work too which I assume gives them some extra free time when they get home. Late start on the other hand doesn't really benefit anyone. Nobody can sleep in because of traffic and we just get out later which compromises our after school activities and homework time. So I don't think there is any point to keeping late start," said Suzel Portal ('23).
While a lot of students live close to the school, there are a lot who don't live nearby. Late start doesn't give these students any benefits, since they still have to take into consideration the traffic. Even for students who live close by, late start may not benefit them at all, because a lot of students have parents who start work at 8 and would have to bring them to school early.
"Even with late start, I have to come to school at the same time everyday, since my grandparents still have to go to work at the same time everyday," said Alaina Salathe ('23).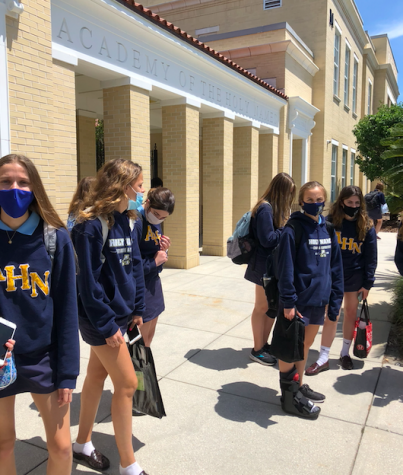 However, the teachers are being affected by these changes as well. While classes are only five minutes shorter now, that time builds up over time and results in a lot of lost class time. 
"It's cut time a little short, even though it doesn't seem like that much time. It might cut into time for practice," said Latin teacher Ariana Newman.
I decided to conduct a poll by asking students directly what they thought and recording their answer. Every student I asked said they prefer having early release. Most students were indifferent to mid-day advisory, some said they prefer having it in the morning.
"I would like to keep early release, but I would want Advisory in the morning again," said Maggie Smith ('23).

As a result of this poll, it seems that a majority of students would prefer keeping early release. But because I only polled a small percent of students, these results may not reflect the true feelings of the student body. Instead of going back to the old schedule entirely, a good compromise would be to just keep early release and eliminate late start. 

Loading ...