Mr. Vargas: The newest member of the team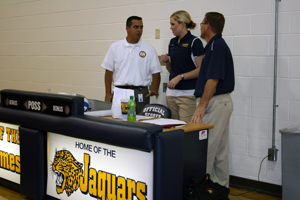 As Jaguar athletes already know, Academy ushered in the 2010-2011 school year by welcoming a new athletic director to our staff.  Mr. Kevin Vargas, a Tampa native and Jesuit High School alumnus, joins the AHN Athletic Department after holding the same position at Corpus Christi Catholic School in Temple Terrace, where he worked for four years.  As a former high school basketball player, he also coached boys varsity basketball for the Cougars, along with volleyball and softball.
"Coach Vargas is a great new addition to Academy, and I think he will be a fabulous athletic director," says former Corpus Christi student Tori Foody.
After graduating from Jesuit, Mr. Vargas made his way to the University of Florida, where he earned a Master's degree in criminology.  During his tenure at UF, he attended the 1996 Sugar Bowl football game in New Orleans, Louisiana, where the Gators were crowned national champions after beating the Florida State Seminoles; looking back, Mr. Vargas calls his opportunity to attend such a premier sporting event "pretty incredible."
Serving as the athletic director for a top-tier high school sports program, his days are jammed packed with work.  First, he is constantly scheduling for various teams; right now, he is working on perfecting the softball game schedule, a season that does not even begin until January. 
Mr. Vargas also monitors the budget, making sure he stays within its limits while keeping Academy up to date with enough athletic equipment.  Another thing of which he keeps track are the grades of student-athletes.  With Academy's rigorous academic curriculum, his concern is that some girls may fall behind in their schoolwork while their various sports are in season.  It is up to the new athletic director to warn them when they are on the cusp of being academically ineligible for athletic activities. 
Lastly, Mr. Vargas consistently receives and returns emails, which he says are "in themselves a job"—after all, he estimates that he receives at least fifty emails a day.  By expertly keeping on top of such a heavy workload, it is easy to see why Mr. Vargas has been successful and well received by his athletes thus far.
As Jaguar volleyball standout Brynn Wiley puts it, "Mr. Vargas is a really nice, helpful AD.  He takes care of all the teams and students like we were his own family.  He's like a friend.  If we need him, he's there.  He is always putting us first."
His popularity is not surprising when one considers the common bond that he shares with all Academy girls: love for his family.  From the moment of meeting him, anyone can observe the deep love he shares for his wife, Amanda Garcia '94, an Academy alumna, and daughters, Adrianna, age seven, and Olivia, who just turned three.
"They mean everything to me," Mr. Vargas relates.  "They are a huge part of who I am and what I am."
Just as all Academy students, athletes and non-athletes alike, are excited about Mr. Vargas's arrival, he is just as thrilled to be the athletic director, saying that he is "very impressed with the caliber of students" at Academy.
He says, "I know I made the right decision in coming here."
Fast Facts on Mr. Vargas:
Before working at Corpus Christi, he was the athletic director at Mary Help of Christians for six years.
His favorite sports to watch are volleyball, football, baseball, and basketball.
His "main guy" is St. Louis Cardinals' slugger Albert Pujols, whom he respects for "[doing] a lot in the community."
Of course, his favorite team is the University of Florida Gators.
If he could attend any sporting event in the world, Mr. Vargas would like a ticket to the Final Four of men's college basketball—he has already attended a college football national championship and the World Series.