Rangers make the World Series, make history in the process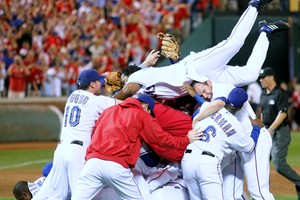 ARLINGTON, Texas — The Texas Rangers waited four minutes to start Friday night's American League Championship Series game with the New York Yankees and 50 years to earn their first World Series berth.
Both were worth the wait.
The four-minute delay was courtesy of rain, but after that the Rangers went about their business, ending their long World Series drought with a 6-1 win over the Yankees at the Ballpark in Arlington.
So, if the Phillies make it to a third consecutive World Series, they will face a third different opponent. The Rangers dethroned the defending champions, four games to two, in the best-of-seven series.
No other franchise has taken longer to advance to its first World Series.
The Series will begin Wednesday at the home of the National League pennant winner.
Texas righthander Colby Lewis, who pitched in Japan the last two seasons, won his second game against the Yankees in this ALCS. He allowed just one run on three hits in eight innings, striking out seven and walking three.
"He went out there tonight and gave everything he had; he showed heart, he showed grit," Rangers manager Ron Washington said.
The series' MVP was Josh Hamilton, who hit .350 with four home runs and seven RBIs.
"I don't want to talk about myself; I want to talk about my teammates, because we are the reason we're standing here," Hamilton said. "This group is here because they don't know how to fail."
The Rangers, who began as the second expansion edition of the Washington Senators before moving to Texas for the 1972 season, had never won a postseason series before defeating the Tampa Bay Rays in this year's American League division series.
"We have a bunch of guys who show up every day and leave their heart on the field," Washington said.
On Friday night, Texas took a 1-0 lead by scoring in the first inning for the fourth time in this series. That improved the Rangers' first-inning advantage to 7-0.
Elvis Andrus led off with a double to extend his postseason hit streak to all 11 of the Rangers' games.
Hamilton hit a one-out single to shallow left field, and Andrus was held at third base. That brought the first trip to the mound by Yankees pitching coach Dave Elland, three batters into the game — not the best show of confidence in starter Phil Hughes.
Vladimir Guerrero then drove in Andrus with a groundout to second on a hit-and-run play.
Lewis pitched four hitless innings to begin the game. He allowed a first-inning walk to Curtis Granderson, who was thrown out by Bengie Molina when he tried to steal second.
Finally, Alex Rodriguez broke up the no-hitter with a leadoff double to left field in the fifth inning.
Rodriguez went to third on a deep flyout to center field by Lance Berkman and scored on a wild pitch that will provide fodder for advocates proposing a wider use of instant replay.
Television replays showed that the bouncing ball struck batter Nick Swisher just below his left knee.
Molina, the catcher, didn't react to the wild pitch, believing that Swisher would be awarded first base. Home-plate umpire Brian Gorman didn't make the call, and Rodriguez scored the tying run.
After his shaky first inning, Hughes settled down until his exit in the fifth.
Texas' No. 9 hitter, Mitch Moreland, opened the fifth with an infield hit and advanced to third on consecutive groundouts.
Hamilton then was issued his second intentional walk of the game, putting runners at the corners with two outs.
To show how much respect the Yankees have for Hamilton, they walked him to pitch to Guerrero for the second time this game. Guerrero is a career .320 hitter, and he showed why by drilling a two-run double that snapped the 1-1 tie and chased Hughes.
It was the fourth intentional walk to Hamilton during this series, setting an ALCS record. (He received a fifth intentional walk in the seventh inning.)
Nelson Cruz then greeted reliever David Robertson with a titanic two-run home run to center field, significantly increasing the decibel level at the Ballpark and expanding the lead to 5-1. Like Andrus, Cruz has hit safely in all 11 of the Rangers' postseason games.
Hughes, who allowed seven earned runs in four innings while taking the loss in Game 2, fared only marginally better this time. He surrendered four runs on four hits in 42/3 innings. Hughes struck out three and walked four.
The Rangers added a run off Kerry Wood in the seventh on Ian Kinsler's sacrifice fly, in an inning in which Hamilton and Cruz were issued intentional walks.
———
(c) 2010, The Philadelphia Inquirer.
Visit Philadelphia Online, the Inquirer's World Wide Web site, at http://www.philly.com/.
Distributed by McClatchy-Tribune Information Services.