Giants take care of Rangers in Game 5 for World Series title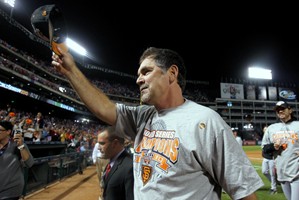 ARLINGTON, Texas — What a night for some klutz to step on Mike Murphy's eyeglasses.
The Giants' ever-present clubhouse manager has labored for the team since the day the steamer trunks arrived from New York in 1958. He waited more than five decades for a world championship.
It finally arrived on a warm Monday night in North Texas — the sight of it fuzzy to Murphy's wet eyes but no less rapturous.
Shout it from atop Coit Tower and let the party begin: Yes, the Giants really are World Series champions.
Tim Lincecum pitched heroically for eight innings, and series MVP Edgar Renteria hit the Giants' most important home run since Bobby Thomson's "Shot Heard 'Round the World," a three-run blast that floated over the center-field wall in the seventh as the Giants defeated the Texas Rangers, 3-1, to wrap up the series in five games.
"The boys did it," Murphy said softly. "Go talk to them. The boys did it."
For all their Hall of Fame past of Mays, McCovey and Marichal, as well as the glaring destruction of Barry Bonds, the Giants' first title since 1954 was improbably accomplished by a team of grinders and golden arms who stood in fourth place at the All-Star break.
They walked into the home ballpark of George W. Bush and accomplished their mission, silencing a Texas crowd but warming the souls of the tens of thousands who froze over the years to earn their Croix de Candlestick.
And these Giants gave absolution to so many great players who came so close.
"I can only imagine the frustration," said first baseman Aubrey Huff, who rubbed his face on a reporter's sleeve after taking another beer dousing. "This team is legendary in San Fran, man. That's all I know. We better not pay for a meal the rest of the year, San Fran!"
The Rangers spent more than 150 days in first place. The Giants spent only 17 after May 1. Yet for all their torture, the Giants never played an elimination game this season, they never trailed in a postseason series — and they clinched three consecutive times on the road.
Brian Wilson, their black-bearded closer, threw the final pitch each time. He eschewed the roller-coaster ride with a perfect ninth inning and thrust his arms in the air after Nelson Cruz waved through a slider to end it.
Catcher Buster Posey leapt into Wilson's tattooed arms, and the Giants jumped around, forming clusters of hugs and elation in front of a dismayed crowd.
The party moved into the clubhouse and then back onto the field a half-hour later, where a small but vocal contingent of Giants fans stayed to cheer them on. Giants owner Bill Neukom got hit with a point-blank champagne blast from Juan Uribe, interrupting an interview. Then the genteel corporate attorney jumped up and down in a crazy scene, yelling "Juan, Juan, Juan, Juan, Oooo-ribe!"
"The group we have going wild in this room has a lot of determination and a lot of will, and they wouldn't be denied," said Giants general manager Brian Sabean, adding he was proudest for Renteria and for all the behind-the-scenes people in the front office, including late confidants Ted Uhlaender and Pat Dobson.
The Giants pitching staff — including their fully homegrown rotation — held the powerful Rangers to one run in the final 21 innings of the series.
"I can't speak enough to our advanced scouting and how the pitchers executed the plan," Sabean said. "And the catcher we have, (Buster) Posey, is really off the charts in terms of his intellect and ability to stay calm in the moment and call the games that he did. This kid's a genius in his own right."
Lincecum and Cliff Lee gave the nation the unblinking pitching duel that everyone expected in Game 1. Neither pitcher allowed a runner into scoring position until the seventh, when Cody Ross and Uribe led off with singles.
Huff, who had exactly zero sacrifice hits to his credit in an 11-year career, surprised the ballpark when he sent a bunt up the first-base line.
"You know what, that might have been the best pitch I saw all night," said a grinning Huff, who would have
bunted on his own even if he hadn't received the sign.
Huff put both runners in scoring position for Pat Burrell, who was benched the previous night and came to the plate 0 for 11 with nine strikeouts in the series.
There was no redemptive moment. Burrell worked the count full but struck out on a cutter. He passed Renteria on his way back to the dugout and appeared to shout, "Let's go, papi."
Renteria's 35-year-old body broke down three times this season and has him thinking of retirement. But he mustered a swing for the annals, lifting a 2-0 cutter that made center fielder Josh Hamilton drift back and back until the wall rudely bumped him.
The Giants dugout celebrated as Renteria calmly rounded the bases. It was his second three-RBI game of this World Series. He didn't have a three-RBI game all through the season.
And 13 years after his walkoff single won the 1997 World Series for the Florida Marlins, Renteria did it again. He joined Lou Gehrig, Joe DiMaggio and Yogi Berra as the only players in World Series history to own game-winning RBIs in two clinching victories.
"Unbelievable," said Renteria, who still hasn't decided about playing another year. "I just say thanks to the skipper for giving me a chance to be in this situation."
Huff recalled a meeting at Wrigley Field in late September when Renteria began crying, telling his teammates he wanted to win one more time.
"He broke down, and we all broke down with him," Huff said. "Since then, I've wanted this more for him than anybody. What a leader he is."
Nelson Cruz hit a home run off Lincecum in the seventh inning, but otherwise the Rangers, for all their claws and antlers, simply looked like deer caught in the headlights.
Lincecum rediscovered the nasty break on his slider and used his changeup to keep the Rangers off balance. He struck out 10 while holding them to three hits.
"I just didn't want to be complacent," he said. "I wanted to pitch big in a big game. And this is where we wanted to go. My initial reaction is just . . . a lot of excitement and a lot of love for everybody."
Pitching coach Dave Righetti knew from the moment Lincecum exited an uneven performance in Game 1 that the two-time Cy Young Award winner would be at his best in Game 5.
"After that game, the first thing he said to me was, 'I'll be good next time. I'll be good,"' Righetti said. "He was trying to be too calm out there. I said, 'Let it take you. Posey will rein you in if he has to. Use the adrenaline, because you'll need it. It's November."'
It was the Giants' first ever game in November. It became their greatest month of all.
———
(c) 2010, San Jose Mercury News (San Jose, Calif.).
Visit MercuryNews.com, the World Wide Web site of the Mercury News, at http://www.mercurynews.com.
Distributed by McClatchy-Tribune Information Services.