Great Athletes and Politicians Contest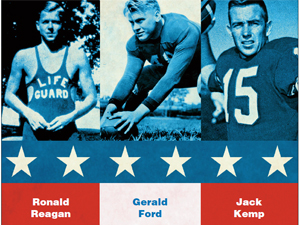 Gregory Clay, McClatchy-Tribune News Service
November 10, 2010
(See contest details at bottom of feature)
Who is the only U.S. Supreme Court justice to finish as a runner-up in the voting for college football's prestigious Heisman Trophy?
That would be Byron "Whizzer" White, appointed to the bench by President John F. Kennedy in 1962. By the way, White, a star running back and Rhodes Scholar from the University of Colorado (hence the "Whizzer"), finished second to Yale's Clinton Frank in the Heisman balloting in 1937. The next year, White led the NFL in rushing, and enjoyed a nice $15,000 salary, a hefty sum for that era.
White's is not the only tale of athlete-turned-office holder. From Orange Bowl MVP-turned-congressman J.C. Watts to Baseball Hall of Famer-turned-senator Jim Bunning, the political bench of former athletes is deep.
As we are in the serious throes of two busy seasons — a contentious election period and an overlapping, non-stop sports schedule — we offer a meeting of politics and sports in this dynamic trivia quiz:
1. What U.S. president played football and captained the swim team for a small college in the Midwest?
A. Richard Nixon
B. Barack Obama
C. Ronald Reagan
D. Gerald Ford
2. What cabinet member in the Barack Obama administration played on her college basketball team?
A. Hilda Solis
B. Kathleen Sebelius
C. Janet Napolitano
D. Hillary Clinton
3. Name the track sprinter who competed in the 1936 Olympics and later became a U.S. congressman.
A. Marty Glickman
B. Ralph Metcalfe
C. Jesse Owens
D. Sam Stoller
4. Which influential U.S. senator spent much of his spare time as an amateur boxer before entering the political stage?
A. Mitch McConnell
B. Patrick Leahy
C. Harry Reid
D. Chuck Schumer
5. Name the former NBA big man who won the Republican nomination for Oregon's gubernatorial race in 2010.
A. Chris Dudley
B. Bill Walton
C. Bill Bradley
D. Arvydas Sabonis
6. What former Oklahoma quarterback led a dynamic wishbone offense before becoming the state's lieutenant governor?
A. Thomas Lott
B. Jack Mildren
C. J.C. Watts
D. Cale Gundy
7. Which former baseball slugger played the role of a New York state senator adamantly fighting to pass legislation against college hazing in a made-for-television movie featuring actress Linda Gray (of "Dallas" fame)? The movie's central theme focused on an antihazing message in relation to college fraternities.
A. Mike Schmidt
B. Harmon Killebrew
C. Barry Bonds
D. Rusty Staub
8. Jack Kemp was MVP of the old American Football League with the Buffalo Bills before becoming a New York congressman, vice presidential running mate and secretary of Housing and Urban evelopment. For which president did Kemp serve as HUD secretary?
A. George W. Bush
B. Ronald Reagan
C. George H.W. Bush
D. Bill Clinton
9. On May 10, 2010, boxing superstar Manny Pacquiao was elected as a member of the House of Representatives in his native Philippines. Pacquiao also is the first Filipino athlete to:
A. Appear on "Dancing With the Stars"
B. Be named to People Magazine's "Most Beautiful" list
C. Win a gold medal in the Summer Olympics
D. Have his likeness on a Philippine postage stamp
10. This former quarterback from the Southeastern Conference was elected to the U.S. House of
Representatives from North Carolina's 11th Congressional District in 2006. Name him.
A. Pat Sullivan
B. Bart Starr
C. Tim Couch
D. Heath Shuler
Email your answers to [email protected].  The first student to win will be announced on the morning show and receive a  gift card to Starbucks !