Academy relay team wins gold at 2A State Championships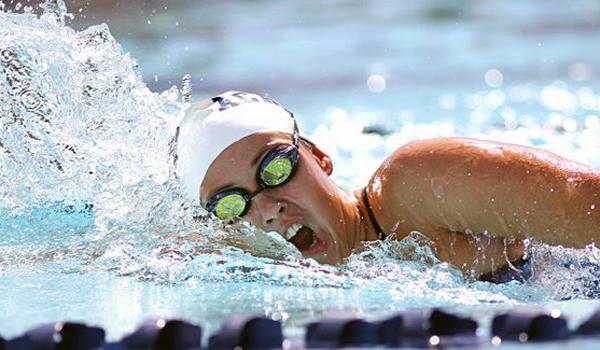 AHN swim team members have been receiving accolades  for their stellar season, culminating this weekend at States where the 200-free relay  won the gold medal in a school-record breaking time of 1:39.35. 
Scott Purks, reporting for the Tampa Tribune from Orlando,  wrote, "The relay's final swimmer, freshman Clare Fleming, dug hard to hold off a surging swimmer from Tallahassee Chiles and Fleming touched the wall .43 seconds in front.  Russell, Fleming, eighth-grader Konner Brewer and sophomore Tori Litschgi looked toward the scoreboard and yelled for joy at finally confirming they had won.  Their final time: 1 minute, 39.35." seconds.
At Regions at the Northshore Pool in St. Petersburg on October 5, two relay teams and Paige Russell broke school records.  Then on Wednesday, November 10, the St. Petersburg Times announced senior Paige Russell as "Female Athlete of the Week."
 Russell achieved her long-time goal of breaking the Academy's 200 free record with the time of 1:55.41.  The 200-free relay of Paige Russell, Mary Green, Konner Brewer, and Clare Fleming finished with a time of 1:40.85. The 400-free relay of Paige Russell, Mary Green, Tori Litschgi, and Clare Fleming ended with a  time of 3:37.67, breaking the 2004 school record. 
Diver Kathleen Sheridan won the 2A-District 8 diving competition, and competed at Regions at the Long Center in Clearwater
The Jaguar's season efforts and results display a stable full of hardworking and determined fIllies. The Academy swim team has always had a close bond through their former coach, Mara Shultz, who recently lost her life to cancer. This recent loss has created a motivational and spiritual bond among Academy swimmers.
Spectators  at any Academy-Jesuit meet  witnessed all season the strong support the girls have had for their own teammates as well as for the Jesuit swimmers.  Academy swimmers, along with their devotion and energy, are the heart of the Academy-Jesuit swim team. With their own "electricity," the Academy team not only broke three records but captured the Class 2A, Region 3 championship title with 346 points.
Six Academy swimmers – Paige Russell, Mary Green, Tori Litschgi, Clare Fleming, Margret Shumake, and Konner Brewer – advance to state competition in Orlando this weekend.