For Gator Nation, Urban Meyer era is over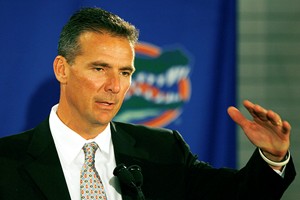 MIAMI — Urban Meyer has resigned again. He won't be coming back, at least not as the University of Florida football coach.
Gators fans hoping Meyer will change his mind — as he did within 24 hours of his resignation last December — will have to acknowledge that the Meyer era is over. It almost ended a year ago, when Florida lost to Alabama in the Southeastern Conference Championship Game. Early in the morning of Dec. 6, Meyer was taken by ambulance to the hospital for treatment of chest pains.
He hasn't been the same since. He seemed distant throughout this 7-5 season, the worst of his coaching career. Like his heart wasn't in it. Like he wished he was elsewhere.
On Wednesday, he stepped down from one of the premier jobs in sports, from $20 million left on his contract as the highest-paid public employee in the state, from the throne of Gator Nation. And from 18-hour work days, recruiting road trips and the relentless pressure to be No. 1.
Love of family won out over love of football. Meyer knew he was devoting more of himself to his 100 players than his three children.
As a coach he was surrounded by clocks — scoreboard clocks, practice field clocks, film room clocks, airport clocks. At age 46, he sensed that time was running away from him.
"At the end of the day I'm convinced you'll be judged on how you are as a husband and father and not on how many bowls you win," Meyer said at a Gainesville news conference, explaining that he had not seen his volleyball-playing daughters play in high school. "I can't get that time back. I made a commitment that I would enjoy the best years of their lives and that's right now."
When Meyer makes a commitment, as he did to coaching, he's the type who dives deep, not the type who dips his toes in the shallow end.
Meyer will coach his farewell game in the Outback Bowl against Joe Paterno, 83, who has been coaching Penn State since Meyer was 2 years old.
"Somebody made a comment that if Joe had stepped down at my age it would have been 1971 or something like that," Meyer said.
They don't make coaches like Paterno or Bobby Bowden anymore, marathon coaches who managed to avoid burnout, or hid it.
With Meyer, the strain was etched on his face. His hair was as crisp as his public personality. His zipper mouth rarely broke into a smile.
He led Florida to unprecedented heights, winning two national titles and amassing a 64-15 record in six seasons. Tim Tebow, the quarterback he treated like his second son, won the Heisman Trophy. He sent 81 players to the NFL.
But the loss to Alabama last year, which prevented Tebow and Florida from going for a third title, was the breaking point. Meyer resigned the day after Christmas, citing chest pains (later diagnosed as esophageal spasms) and severe headaches caused by an arachnoid cyst.
Florida Athletic Director Jeremy Foley helped talk Meyer into reversing his decision, and on Dec. 27 Meyer said he would take only a leave of absence. He came back, but took days off for a vacation in Hawaii with his wife and a visit with the pope in Rome.
Meyer struggled to find moderation. His hard-bitten father, Bud Meyer, who used to pay Urban for home runs and fine him for strikeouts when he was growing up in Ashtabula, Ohio, scoffed at the idea that his perfectionist son could change, as if turning down his intensity was as simple as turning down the volume on the radio.
"Last year was a wakeup call," Meyer said.
But this year was a disappointment. Meyer's usually flashy spread-option attack was a dud. The Gators lost to Alabama again and were embarrassed by South Carolina (coached by cackling former Florida coach Steve Spurrier) in The Swamp and by Florida State. When a player was arrested for threatening a woman, Meyer was criticized for the 30 arrests of players during his tenure. As quarterback Cam Newton excelled at Auburn, fans wondered how the former Gator got away to an SEC rival.
"Florida deserves the best, and I'm not sure we gave it our best this year," Meyer admitted. "It has to be fixed. It's a little broken right now. It's broken because of the constant attrition of coaches. We lost five juniors to the NFL Draft and you have a void. We'll be back stronger than ever."
But not under Meyer, who decided Tuesday after "very deep family discussions" that he wanted to spend more time with Nicole, Gigi, Nate and wife Shelley, who has a degree in psychiatric nursing with a specialty in addiction.
Meyer said last year's resignation was an emotional, "knee-jerk reaction" but that the timing is right this time for him and for Florida to hire a replacement, possibly his protege Dan Mullen, now coach at Mississippi State. Mullen has talked to the University of Miami about replacing Randy Shannon, who was fired Nov. 27, but the Gators gig would be more desirable.
How long until Meyer gets restless, bored listening to his favorite singer, Jimmy Buffett? He is not the kind of guy who would enjoy wasting away in Margaritaville.
Before he even announced his resignation in Gainesville, he had already been linked to the job of coaching the NFL's Denver Broncos, where he would be reunited with Tebow.
He will soon be tempted to win more titles. Can he balance family and football? Or does it have to be family or football? For Meyer, it's an agonizing choice.
———
(c) 2010, The Miami Herald.
Visit The Miami Herald Web edition on the World Wide Web at http://www.herald.com/.
Distributed by McClatchy-Tribune Information Services.