Will Rodgers surpass Favre?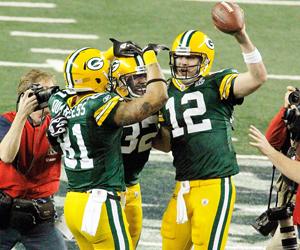 Mark Craig, Star Tribune (Minneapolis)
February 7, 2011
ARLINGTON, Texas — It's no longer a matter of whether Aaron Rodgers can simply replace Brett Favre as Packers quarterback. Now, it's a matter of whether he will surpass him one day as an iconic figure in the NFL's most storied of venues.
Hamstrung by injuries to key players and several dropped passes, the Packers leaned on Rodgers, in his first Super Bowl, to outplay two-time champion Ben Roethlisberger in outlasting the Pittsburgh Steelers and winning Super Bowl XLV 31-25 in front of 103,291 at Cowboys Stadium.
"We put everything on his shoulders," Packers coach Mike McCarthy said. "And he did one hell of a job."
Rodgers wasn't perfect, but he was clutch. He completed six of 10 third-down passes for 148 yards and a touchdown. Two of his three touchdown passes came following Steelers turnovers. He didn't turn the ball over and threw for 304 yards. But the play that felled the Steelers came on third-and-10 with less than six minutes left and the Steelers holding momentum after scoring a touchdown and two-point conversion to make it a three-point game.
The Steelers unleashed the vaunted blitz that's buckled and battered many a quarterback over the past 40 years. Rodgers calmly unleashed a perfect pass to Greg Jennings, who turned the post route into a critical 31-yard gain. That led to a field goal, forcing Roethlisberger, one of the best big-game quarterbacks in NFL history, to go for a touchdown when he got the ball back at his 13 with 1 minute, 59 seconds left.
"That ball down the middle of the field to Jennings," said Steelers coach Mike Tomlin. "That's big-time."
The Steelers' hopes of a seventh Super Bowl title disappeared on the Pittsburgh 33 when Roethlisberger threw incomplete on third and fourth down. That gave the Packers a record 13 NFL championships, a fourth Lombardi Trophy as Super Bowl winner and Rodgers the game's Most Valuable Player award.
Rodgers, 27, is the same age Favre was when he won his first title in Super Bowl XXXII. But Favre didn't win MVP, and would not win another Super Bowl before retiring for a third time last month.
"I told (Packers General Manager) Ted Thompson in 2005 he wouldn't be sorry about (drafting me)," Rodgers said. "And I told him in '08 (when Thompson traded Favre) that I was going to repay their trust and get us this (Super Bowl)."
The Packers took a 14-0 first-quarter lead with two touchdowns in 24 seconds. Facing third-and-4 from the Pittsburgh 29, Rodgers spotted Jordy Nelson in man coverage and threw another perfect strike over the top of a backup cornerback who was in the game because of an injury to a starter. Touchdown.
On the next play from scrimmage, defensive tackle Howard Green, who was signed in October, hit Roethlisberger as he was throwing. The resulting wobbler was intercepted by safety Nick Collins and returned 37 yards for a touchdown.
The Packers would have a hard time holding on, mostly because of more injuries to key players. Cornerback Charles Woodson (broken collarbone) and receiver Donald Driver (ankle) were injured and didn't play the second half. Nickel back Sam Shields (shoulder) also missed a big chunk of the game.
It's only fitting that the Packers persevered. They started the year 3-3. They put 15 players on injured reserve, including six starters. They lost a league-high 91 games by starters because of injuries. And they sneaked into the playoffs and became the first No. 6 seed from the NFC to win a Super Bowl.
The Steelers never led, mostly because they turned the ball over three times and the Packers made them pay with 21 points. After a second-quarter interception by Jarrett Bush, Rodgers went 3-for-3 for 41 yards, including a 21-yard touchdown pass to Jennings in which he somehow threaded the ball into a crowd of three Steelers near the goal line for a 21-3 lead.
The Steelers closed to 21-17 and had the ball to start the fourth quarter. But running back Rashard Mendenhall lost a fumble when he was hit by Ryan Pickett and Clay Matthews.
Rodgers pounced again. Overcoming Nelson's third drop of the game and a sack in the red zone, Rodgers completed three of five passes, converting two third downs, for 58 yards and an 8-yard touchdown to Jennings that made it an 11-point game again. Nelson, who had nine catches for 140 yards and a touchdown, had a 38-yard catch on third down because Rodgers went right back to him after the drop.
Although Rodgers and Favre won their Super Bowls in their sixth season, Rodgers did it in his third season as a starter while Favre did it in his fifth year as a starter.
After three seasons as a starter, Rodgers leads Favre in completion percentage (64.5 to 62.5), passing yards (12,394 to 10,412), touchdowns (86 to 70) and fewer interceptions (31 to 51). He also has a better record overall (31-22 to 28-21) and in the postseason (4-1 to 2-2). And, oh yeah, Super Bowls (1-0).
"I'm very proud of Aaron," Thompson said. "Even though he's done so much, he's still just kind of getting started."
———
(c) 2011, Star Tribune (Minneapolis)
Visit the Star Tribune Web edition on the World Wide Web at http://www.startribune.com
Distributed by McClatchy-Tribune Information Services.
—————