Florida hopes Butler will be its good-luck charm in Elite Eight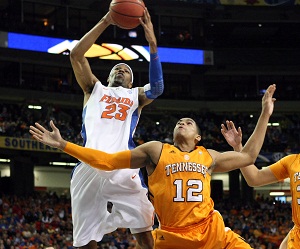 NEW ORLEANS — Florida brought its good-luck charm along to the Elite Eight: Butler.
Both times the teams have met in the NCAA Tournament, the Gators have won and gone on to the Final Four, a feat they'll try to duplicate Saturday in the Southeast Regional final at the New Orleans Arena. The Gators and Bulldogs will tip off at 4:30 p.m. EDT.
And after a postseason full of "one-day-at-a-time" talk, they find themselves dreaming just a little.
"We're preparing for Butler, but in the back of our minds we're thinking, 'If we beat Butler, we're going to Houston. We're cutting down the nets if we beat Butler,'" forward Chandler Parsons said. "You can't get too far ahead.
"We're excited about the process, but we just look at it as Butler's in our way of getting there."
Serving as second-seeded UF's tournament roadblock is familiar territory for the Bulldogs, who lost to Florida's national championship team in the 2007 Sweet 16 after leading by as many as nine and being tied with three minutes to play.
Memorable matchup
And in a more memorable contest, the Gators won a 2000 first-round matchup when current Heat forward Mike Miller drove in from the wing and hit a runner at the buzzer, then went on to lose to Michigan State in the national title game.
Butler coach Brad Stevens cited those two games as confidence boosts for the program, as players and coaches began believing the Bulldogs could play with the nation's best. The 2000 loss began a run of eight tournament appearances in 12 seasons, and the 2007 defeat helped set up last year's run to the national championship game.
Not a Cinderella
Guard Ronald Nored said players from those squads have sent him text messages about facing Florida, and he added that he and backcourt mate Shelvin Mack studied the more recent meeting before last year's postseason.
"Shelvin and I watched the Florida game from '07 a few times just to get a feel for the toughness of the tournament," Nored said.
Now, the Bulldogs are well aware of what deep postseason runs feel like, and the Cinderella slipper no longer seems to fit. They came inches from beating Duke for the 2010 title, and this season the No. 8 seed bounced top-seeded Pittsburgh and fourth-seeded Wisconsin to reach the Elite Eight.
They have done it with a tough brand of basketball, led by forward Matt Howard (16.8 points and 7.8 rebounds per game) and guard Shelvin Mack (15.6 points per game), a similar look to the 2007 group that took UF down to the wire.
"They're the most physical team in the country," Florida coach Billy Donovan said. "People may look at them being from a non-BCS program and teams being taller or built bigger or stronger, and it means absolutely nothing. They've got a tough, hard-nosed group of physical guys. They take on physical confrontation, and they do a great job initiating it."
In contrast to the smaller, perimeter-based BYU squad the Gators faced Thursday, this game will likely be settled in the paint. That means a load on Florida's frontcourt to deal with, but the task will be easier if forward Alex Tyus can duplicate his last performance.
He notched the best game of his career against the Cougars, becoming just the 11th player since 2000 to have 19 points and 17 rebounds in a tournament game.
And he, along with Parsons and center Vernon Macklin, should be happy to lead the way, as a loss means the end of the seniors' careers.
"I said to my trainer (Friday) when I was getting taped, 'We're only guaranteed one practice and one game, and that's it,' and that was the truth," Macklin said. "I'm definitely living in the moment right now, and I'm ready to play."