Lindsey Hahn selected by FHSAA for Academic All-State Scholarship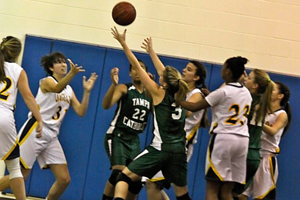 On April 27,   Lindsey Hahn was selected as a recipient of the Florida High School Athletic Association (FHSAA) Academic All-State Scholarship.  Lindsey ranks as one of only 24 out of 185 qualified athletes in the State of Florida who received this award.  Also a National Merit Scholarship Finalist, Lindsey will study engineering at Georgia Tech in the fall.
To be eligible for selection to the team, a student must be a graduating senior, must have a cumulative unweighted grade point average of at least 3.5 on a 4.0 scale, and must have earned a varsity letter in at least two different sports during each of his or her junior and senior years. Lindsey will receive a $1,000 check for her award, and has been asked to read her nomination essay at the awards banquet this June.
Lindsey served as co-captain of this year's Academy basketball team, which  had one of its best seasons in recent years, finishing with a record of fourteen wins and seven losses and a third place finish in the District tournament.
Although they competed in an extremely challenging district that including the state champion Tampa Catholic Crusaders and perennial contenders St. Pete Catholic Barons, under the leadership of Hahn and co-captain Katie Martin, the Jaguars stepped up their game, surprising many with their numerous and continual victories. They bested St. Pete Catholic for their first win over the Barons since the 2006-2007 season and conquered the Seffner Christian Crusaders, a state championship semifinalist.
Returning next year are stat leaders Amanda McWilliams (points per game, 11.7), Ashley McWilliams (assists per game, 3.1), and Victoria Martinez (rebounds per game, 4.5). Though Amanda McWilliams suffered a midseason injury, she nonetheless still made an enormous, positive impact on the team, and both the Tampa Tribune and the St. Petersburg Times named her All-County Honorable Mention.