Nadal joins the race to be the best in history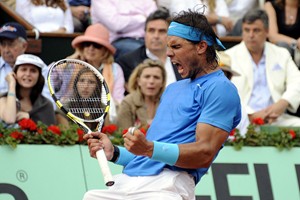 PARIS — The night progressed and an exhausted Rafael Nadal was still enjoying himself just yards off the Arc de Triomphe in Paris.
He had good reason to celebrate: he is now fully immersed in the race to become the most successful tennis player in history.
Paris was shaking in an electric thunderstorm that gave it an eerie look, but neither the world number one nor his friends got wet in the rain. They were safe inside L'Arc, an exclusive restaurant, bar and nightclub in Paris's most expensive neighborhood.
A little luxury was justified, because Nadal's victory over Roger Federer in the French Open final put the Spaniard even with the Swede Bjorn Borg, who was until now the only man ever to win the tournament six times.
Moreover, the trophy put Nadal 10-16 against Federer in terms of Grand Slam titles. Federer's mark looked distant until recently, but it no longer looks so far away.
As he had photos taken with the trophy and Mickey Mouse in Eurodisney Monday, Nadal sought to tone down euphoria.
"I have more than I ever dreamt of," he says.
But that does not mean he is not ready to dream on.
The legendary Rod Laver says, whenever he is asked, that he would rather compare tennis eras than players, because it is impossible to determine who is actually the best in history.
"You probably don't remember Bill Tilden," he once told a reporter who insisted on the issue.
This is an elegant way to remember the 10 Grand Slam tournaments won by Tilden — the same number as Nadal — and to remain humble, because Laver, who won the Grand Slam twice, is himself the best player in history.
Federer and Nadal can be directly compared, because their rivalry that is the most real in recent decades.
Neither of the great names of the 1970s, 1980s and 1990s — Borg, John McEnroe, Jimmy Connors, Ivan Lendl, Pete Sampras or Andre Agassi- clashed against each other in eight finals of Grand Slam tournaments, which Federer and Nadal have already done.
That is what makes it special for Nadal, who is always extremely cautious in his public comments, to say what he said late Sunday: that he feels like one of the select few in the world of tennis.
"I don't think about being the best tennis player in history. But there is no reason to fool oneself: with 10 Grand Slam tournaments you belong to that group of privileged players," he said.
Nadal says over and over again that he thinks Federer is the best player in history, but he cannot escape the fact that he himself beat the Swiss in six the eight finals at the majors, and in 17 of the 25 matches they have played overall so far.
That, he knows, must mean something.
"It means I probably also play well. It means that obviously things have gone well for me against him, which does not change anything else, in my opinion," Nadal says.
Federer won 16 Grand Slam tournaments and played 23 such finals, a number that no other player ever attained.
Nadal does not like the comparison between himself and the Swiss. So comparisons are best left to others.
For Jim Courier, who won the French Open twice, Nadal "definitely" has a chance to equal and surpass Federer's mark, provided that his body can stand the pressure.
Ecuadorian Andres Gomez, who won the French Open in 1990, notes that the upcoming Wimbledon tournament could be decisive. It could leave the count at 17-10, or 16-11.
"Many things can be decided at Wimbledon, where Federer starts off as the favorite," he said.
The problem for the Swiss is that he has not beaten Nadal in a Grand Slam final since Wimbledon 2007. He has fewer problems with the game of up-and-coming Serb Novak Djokovic, Federer's father says.
"I think my son played Friday against Djokovic his best tennis in a long time," Robert Federer told the German Press Agency dpa. "But Djokovic is a very different player. The ball comes flat, straight, it's a different thing. And then there is Rafa with his top spin…"
One-and-a-half years ago, Federer already had the 16 titles to his credit, and Nadal had just six. The gap has closed considerably, but the Swiss, who is about to turn 30, says he is not worried that his 25-year-old rival gets closer.
"Who cares where you stand? It's when it's over and you can't do anything any longer, that's when you're proud of what you accomplished," Federer said.
"I'm happy for him that he's won these Grand Slams and these tournaments. He can prove to people he can play good tennis. This is what counts. Ten Grand Slams is a lot. He knows this, I know this, everybody knows this. It's really good for him."
———
(c) 2011, Deutsche Presse-Agentur GmbH (Hamburg, Germany).
Distributed by McClatchy-Tribune Information Services.