Sailing team launches this year's new sport at Academy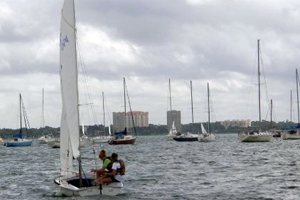 Step aside swimmers and rowers, a new water sports team is moving in at Academy! That's right, Academy of the Holy Names is kicking off the year by starting an official sailing team.
Sponsored by Davis Island Yacht Club, the sailing club has attracted many Academy students. Girls who participate in the spring season for this new team will not only receive a varsity letter, but also the chance of a lifetime. These girls will become part of a unique sport that is as fun as it is challenging.
Sailors will take on two-person '420' boats, thusly named because the boat is 420 centimeters long. The sport implements team work in many aspects, as sailors must learn to work together as skipper and crew. The skipper controls the mainsail and rudder. The crew works to keep the boat balanced while at the same time concentrating on the smaller jib sail.
Sailing is not a simple sport to learn, but team captain Chaz Carnevale knows it has many rewards. "Sailing is an amazing sport that can take you anywhere and everywhere. I've traveled all over the country for sailing, and I've even gone to Italy!"
With regattas all around the state of Florida, as well as around the world, sailing is the ideal sport for the adventurous athlete. Even girls who are not the most athletic find something to love in sailing.
Senior member of the team, Charmaine Bondoc, can relate. "I'm not an athletic person, so finding a sport where I can get my varsity letter and still have fun is exactly what I love about sailing!"
The new sailing team is open to all grades and levels of experience, and possesses an equally laid-back philosophy. A relaxed mindset is important as sailors rely on good weather conditions and strong winds.
"We don't always know if the weather is going to cooperate, a million things could happen while we're on the water, but we do know that it's going to be an adventure," Carnevale stated.
Interested in the sailing team? Athletic director Kevin Vargas encourages all girls to contact him or to email John Ayers, the official Davis Island Yacht Club liaison. Mr. Ayers can be contacted at [email protected].