Swim teams dives into new season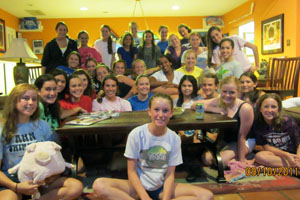 Fresh off its most successful season to date, the Academy swimming and diving team has carried its winning momentum into the 2011 season.  The Jaguars return studs Clare Fleming, Victoria Litschgi, and Konner Brewer, who won a state championship with AHN alumna Paige Russell last year in the 200 freestyle relay.  In addition, new freshmen Alex Nuyianes, Julia Cogdill, and Colleen Driscoll have emerged to boost the team's talent.  Several other swimmers have improved their strength and speed during the offseason and anticipate strong seasons.
The Jags face a tough schedule with dual meets against perennial contenders Plant High School and Newsome High School, along with rival Berkeley Prep.  However, the girls look to finish with a winning season and earn their fourth consecutive district title and second consecutive region title. Also, they hope for strong performances for the freestyle relays at states, along with impressive swims for individuals at the meet as well.
This group, who claims it is "tighter than their suits, which are two sizes too small," demonstrates an incredible abundance of teamwork and camaraderie for a sport that many consider to be largely individual.  But, the Jaguars know that much of their success is based on how they function as an entire unit, not as separate swimmers and divers. 
In their first meet of the season, the team matched up against the Newsome Wolves, also a defending district champion.  Newsome, stacked with star swimmers,  expected to win by twenty-five points.  The Academy team pulled together in an amazing display of cohesiveness to challenge the Wolves for a victory, though the Jags eventually lost by three points.  However, this meet showed the rest of the tri-county area that the Academy Jaguars will be a strong force this season.
 "It's great to see everyone coming together as a team this early in the season.  We all cheer for each other and push each other at every meet and practice,"  said junior Tori Litschgi.
It looks as if the team will once again swim to many wins this season.  They dive in to the season highly touted and ready for challenges, and they hope to emerge from the competition victorious.