Will Muschamp and Florida hammer FAU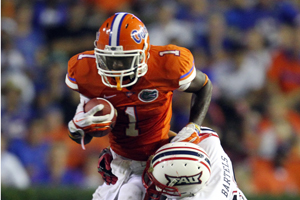 Rachel George (MCT)
September 8, 2011
GAINESVILLE, Fla. — As season openers go, Will Muschamp's first went much better than Urban Meyer's last.
In the first game for the first-year coach, the No. 22 Gators beat Florida Atlantic, 41-3, at Ben Hill Griffin Stadium on Saturday. They did it with an offense that looked more polished than it did much of last season, a suffocating defense and three touchdowns from senior Chris Rainey.
In the first game of FAU coach Howard Schnellenberger's final season, the $500,000 guarantee was about the only bright spot. With Schnellenberger coaching from the box after pain from his August hip replacement prompted a cautionary trip to the hospital on Friday, the Owls struggled to move the ball on offense and stop the Gators on defense. FAU was
It was the Gators' 22nd-consecutive season opening win and one better than the 34-12 defeat of Miami (Ohio) last season. Florida managed just 212 yards of offense in that game, struggled with snaps and gave a preview of what would be a difficult season for the offense as they went on to win only eight games.
On Saturday, the Gators had 264 yards and a 24-3 lead by halftime. They racked scored on their first four drives and got 18 first downs before the Owls got one. Only twice last year did UF have a drive of 90 yards or more, but the offense under new coordinator Charlie Weis completed a 91-yard scoring drive by the middle of the second quarter.
Rainey, meanwhile, led the way. He became the first player in the country since 1996 to score a touchdown three different ways — one receiving, one rushing and one on special teams.
Rainey, who was suspended for five games last year, scored on a 14-yard reception from John Brantley, a 15-yard run and a 22-yard return after Solomon Patton blocked a punt. UCLA's Maurice Jones-Drew in 2005 and Jason Cherry for Louisiana-Lafayette in 2008.
Rainey finished with 168 all-purpose yards. Fellow senior RB Jeff Demps also scored two touchdowns and had 105 rushing yards on 12 carries. It was Demps' 5th 100-yard rushing game.
Brantley, meanwhile, had more passing yards by halftime (160) than he did in his entire first game as a starter a season ago (113). He finished going 21-for-30 for 229 yards, one touchdowns and two interceptions.
FAU capitalized on some Florida mistakes but could do little else against the more talented Gators.
The Owls got on the board after Marcus Bartels picked off freshman QB Jeff Driskel and returned it 33 yards to the Florida 38-yard line. They got to the UF 4-yard line before a penalty backed them up and Vinny Zaccario hit a 27-yard field goal.
FAU intercepted Brantley on the next drive but didn't score as Zaccario missed a 34-yard attempt.
After gaining only 62 total yards in the first half, the Owls had 75 yards of offense in the second half. QB Graham Wilbert, starting his first game since 2007 when he was in high school, was 14-for-26 for 107 yards.
———
©2011 The Orlando Sentinel (Orlando, Fla.)