Jaguar athletes strive for district dominance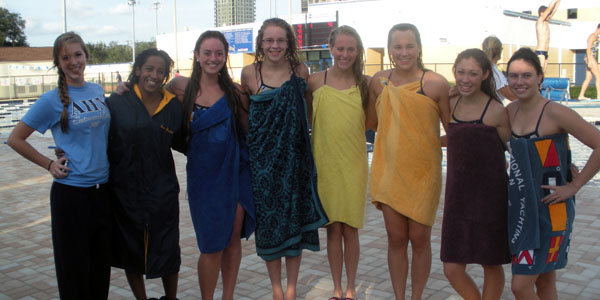 As the 2011 fall sports postseason approaches, the Academy Jaguars once more are ready to pounce.  The golf team has already qualified for regions, and the other fall sports are looking forward to successful district competitions this week.
Concluding a one-loss season, the swimming and diving team aims to sprint its way to its fourth consecutive district championship. Many swimmers and divers, including sophomore Clare Fleming and junior Victoria Litschgi, aspire to earn individual district championships in Class 2A, District 8, while the 200- and 400-freestyle relays hope to defend their titles from last year.
Though forecasters expect the weather to be chilly the night of the meet, the team still expects the competition to heat up, especially from Sickles and Robinson, a newcomer to Class 2A. Many Jaguars hope to advance to the region meet, held the following Saturday, and help the team defend its Region 3 crown.
The volleyball team is the next to compete at the district level in its championship, beginning Tuesday, October 25 at Berkeley Prep.  This talented group looks to capture the Class 4A, District 9 crown despite competition from local rivals Berkeley Prep and Tampa Catholic.  Captained by senior hitter Brynn Wiley, the young volleyball Jags feature an outstanding underclassmen core that promises much success in future years.  Fueled by recent wins over Tampa Catholic and Canterbury, the team looks to dig, set, and spike its way to victory and a berth in the region championships the following week.
The cross country team, a perennial Hillsborough County powerhouse, closes Academy's district competition lineup. After an impressive finish at the Little Everglades Pre-state Meet, this young squad wants one thing: a fourth straight district title.  Paced by fast freshman Colleen Doherty, the Jaguars head to the familiar Al Lopez Park to run in the Class 2A, District 9 championship. There, they will meet competition from the Robinson Knights and other local high schools. But, Academy stands resilient in the face of challengers, and they will use this meet as preparation for the following week's region championship as well.
Good luck to all Academy fall athletes competing in district games, tournaments, and meets. Bring championship trophies back to Bayshore!