Check your watch: It's 'Tebow Time'!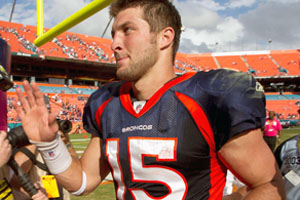 Quarterback heart-throb Tim Tebow has proved to be the go-to guy for the Denver Broncos. With a 5-1 record as the new starting quarterack, Tebow has shown the non-believers that he is the man for the job.
This past weekend the Broncos battled against the San Diego Chargers, a team they had lost to previously. The game started out rough for the Broncos. The Chargers came out with a bang, bringing the score to a quick 10-0 lead over the Broncos. Denver went into half-time with no points on the board.
Going into the second half Denver knew they had to step it up in order to beat the Chargers. The third and fourth quarters were exciting to watch. The Broncos finally put points on the board with a rush up the field and an 18-yard pass from Tebow to Decker in the end zone, bringing the score to 10-7. The Chargers broadened the score to 13-7 with a field goal, and the Broncos followed up with a field goal of their own making the score a three point spread, 13-10. The Broncos tied the game with another field goal in the last minutes of the fourth.
The captains came to center field for the coin toss that began overtime, a fifteen-minute quarter that ends when either team scores first. The Chargers rushed the ball into a 53-yard field goal range. As San Diego kicker Nick Novak dealt with the pressure of the kick, Tebow  kneeled on the sideline praying for the Broncos. Novak set up to kick and missed the field goal, giving Denver posession.
Tebow went onto the field knowing he had one mission: Get the ball into field goal range. Tebow rushed the ball down field and set the team into position for Prater to come in and kick. Tebow prayed on the sideline again.  Prater kicked and made the field goal, giving Denver the victory over the Chargers with a score of 16-13.
People speculate whether Tebow has what it takes to play and be successful in the NFL.   Once given the opportunity to be starting quarterback, Tebow has improved the Broncos' record and held the team together in tight situations. Tebow has the help from his strong supporters, the drive to prove people wrong, and his relationship with God to help the Broncos succeed. Go Tim!