The mysterious disappearance of athlete loyalty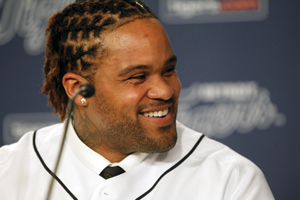 Old-school sports fans across America breathed yet another sigh of frustration on January 25 as Prince Fielder signed a contract with the Detroit Tigers in lieu of re-signing with the Milwaukee Brewers. Though the first-baseman has played for no other team in his six-year career, Fielder opted to take advantage of the higher salary offered to him from the Tigers though free agency, an economically smart decision. However, some fans wanted Prince to stay in Milwaukee and play for the team that drafted him. Moreover, they wanted him to display loyalty to a single team, something of a foreign concept in today's money-driven sports world.
Fielder's decision to depart from Dairy State is all too familiar to fans. In every offseason of every sport, there are high-profile athletes leaping into free agency once their contracts expire. Teams hope to re-sign these popular players, the ones around whom they have built the franchise and marketed it. However, it seems that these men inevitably display their loyalty to money and not to that team and their former teammates.
The drama of the current MLB off-season unfolded as Albert Pujols signed a contract with the Los Angeles Angels, rejecting the proposed contract from the St. Louis Cardinals, the team with which he won a World Series in 2011. Pujols had never played for a team other than the Cardinals, and he was the group's franchise player. The team featured him in its marketing campaigns, community service initiatives, and promotional giveaways. Pujols, having played for the Cards for his entire ten-year professional career, represented the loyalty once prevalent in sports, a fleeting sentiment among today's superstars.
As fans of one-team athletes, such as Mickey Mantle, Ted Williams, and Stan Musial, viewed it, Pujols eschewed the team that developed him as an All-Star in favor of the money and glamour of Hollywood.
Though Albert Pujols's decision to leave St. Louis hurt many Cardinal and Pujols fans, it did not cause the uproar that LeBron James's infamous choice to take his talents to South Beach did when he signed with the Miami Heat in 2011. Not only was James the star of the Cleveland Cavaliers, but he also grew up in nearby Akron, Ohio. James was a home-grown MVP, the pride of the Cavs and the city of Cleveland. However, he accepted Miami's offer (and the bigger contract it offered) to play with his buddies Dwayne Wade and Chris Bosh in South Florida.
As a result of this situation, not helped by a one-hour television special in which LeBron annouced he would play for the Heat, fans demanded James's head.   Cavaliers owner Dan Gilbert called his former player out in an open letter, and riots ensued in Cleveland. Most of all, James's hometown fans felt betrayed by their native son, a player who put Cleveland basketball on the map.
As are the cases with Fielder, Pujols, and James, this "talent-drain" often hurts the small-market, professional teams. These franchises cannot afford to pay the enormous salaries that big-name players demand, so the stars follow the money trail and head for the teams in larger media markets.  The smaller teams must then discover talent through the draft system and develop these players until they become superstars. However, the teams usually have a set time limit in which they can take advantage of their draft picks: if a player becomes too good, he will leave for a large-market team, thus perpetuating this vicious cycle.
Right here in Tampa, the local teams face this small-market struggle. Currently, the Rays worry about the future of their All-Star thirdbaseman, Evan Longoria. Drafted third overall in the 2006 MLB draft, Longoria developed into an unstoppable force at the hot corner through the Rays' farm league. But the Rays deal with a Catch-22 because with each new award Longoria wins, the chances of him leaving the Bay Area when his contract expires increases.
These small-market teams can only hope that today's players value the loyalty and support their teams have given them throughout their careers, or else they must face the truth that the big names will always flock to the big cities.