Considering one-and-done? Think again…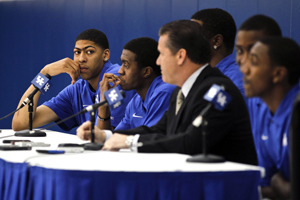 As soon as Coach John Calipari and his University of Kentucky Wildcats cut down the nets after their national championship victory in New Orleans, the college basketball blogs were abuzz. Writers wondered which players on this freshman/sophomore-dominated team would stay in Lexington and which would leave, attracted to the glamour, fame, and money of the NBA.
Most believe that the core players, including freshman Anthony Davis, Michael Kidd-Gilchrest, and Marquis Teague, will forgo their college careers in favor of quickly beginning their inevitable lives as professional basketball players. The fulfillment of such predictions would be no surprise, considering Coach Cal has built himself quite a reputation for developing "one-and-done" college programs abound with NBA-ready players.
However, the popularity of the one-and-done system, in which basketball stars leave college after the required one year following their high school graduation in order to enter the NBA Draft, hurts the NCAA game. It creates quick turnover of players, leaving coaches with only a few months to regroup and refocus their game plans around a new group of athletes. Programs such as Kentucky follow this system year after year, with only a few athletes actually sticking around campus until graduation from the university.
Of course, the one-and-done system does benefit some players. Kevin Durant finished his freshman year at the University of Texas by winning the Naismith and Wooden Awards, college basketball's top individual trophies, and was a first-team All-American. Carmelo Anthony, another All-American, led his Syracuse Orangemen to a national championship and college the tournament's Most Outstanding Player accolades along the way. From a basketball standpoint, these two players had nothing to gain by staying in college and competing against players with half their skillsets; nonetheless, their departures left UT and SU fans with thoughts of what could have been.
Overall, the one-and-done system only benefits a select few players each year. The rest thinking about ditching class and hitting the NBA hardwood should consider their life after their basketball careers before they hire an agent and declare for the Draft.
After all, their bodies will only function at the high level that the NBA requires for so long, especially for tall centers and forwards. Look at two of the NBA's most recent and successful–and retired–big men, Shaquille O'Neal and Dikembe Mutombo. Both retired after years of knee problems resulting from seasons upon seasons of jumping and landing on the hard floor.
Since many players will also battle these health issues at the ends of their careers, it would be wise for them to receive a full education and degree while they can. Some of the nation's top basketball programs are also at the best American universities, such as Georgetown, Notre Dame, and Duke, so student-athletes should take advantage of their opportunities for a free education at these colleges.
Dave Bing was one player who stayed in school despite NBA offers and benefitted from this decision later. After receiving his degree from Syracuse University and having a Hall-of-Fame-worthy NBA career, Bing started the Bing Steel Company and became Mayor of Detroit. He credits his fine education from the 'Cuse for the success he had later in life.
The current crop of college players should take a page out of Bing's book. He is an NBA Hall of Famer, blessed with numerous athletic talents, but chose to stay in school so he could be successful after his basketball career. He demonstrates that the benefits of a college education far outlast the oftentimes too-short career of any professional athlete, no matter how gifted.