Jaguarettes score fourth and seventh at UDA State Champs
Whether performing at Jesuit games or competing at state competitions, the Jaguarettes always take the stage by storm.
Their performance at the UDA State Dance Team Championship was no exception to this standard. Competing against 330 high school and all-star dance teams who made the cut, Jaguarettes scored a fourth and seventh place in two categories.
Dancing for an estimated 10,000 spectators in the audience, the dance teams competed in divisions based on their team size and grade/age level.  Each team had the option to enter two of the following categories: Jazz, Hip Hop, Pom, and High Kick.  The 24 girls brought home a seventh place in large varsity Jazz, and fourth place large varsity Pom title.
The team's next competition will be at MA Dance in early March when they will compete in three categories to defend their first place (Super Sweepstakes) title against the private schools of Florida. There they will compete against Tampa Catholic, CCC, St. Pete Catholic, Father Lopez, Central Catholic, and more.
Head Coach Mrs. Stefanie Zummo is very proud of her team. "The level and caliber of the dance teams was very difficult this year.  A few of the teams held national titles, practicing six days a week. With our own team only practicing two the three times a week. Overall they did a great job! Over half the team was competing at this level for the first time."
Sophomore dancers Lauren Calka and Courtney Mastrorio are also proud of their accomplishments "Our category had some tough competition. There were many public schools that had more students, giving them a better advantage. They were picking a dance team out of a thousand girls in preforming art schools whereas we only have 380 students."
About the Writer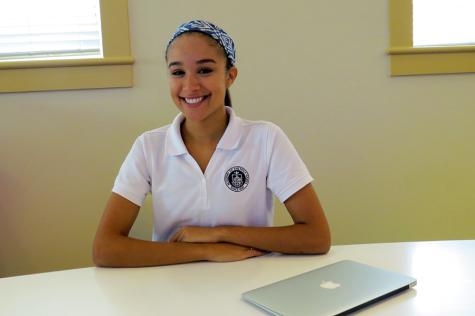 Rachel Anderson, Sports Editor
Senior Rachel Anderson has been on Achona since Sophomore year. She attended the CSPA Convention in the fall of 2013 where she presented a workshop on...