Sports Banquet honors track, crew, tennis and softball
Yet again, another successful sports season came to an end for the 2013 Spring Sports teams on Thursday, May 2, at  the Academy Athletic Department Sports Banquet.  The event hosted athletes and their families to celebrate the achievements of track, crew, tennis, and softball.  In addition, AHN alum Jennifer Jacobs was inducted into the AHN's Hall of Fame.
This year's "Best Senior Athlete" award went to Christina Gerecke for her achievements as a member of the school's golf team and softball team. The "Three-Sport Athlete" awards went to Colleen Doherty (Cross Country, Basketball and Track), Natalie Hahn (Cross Country, Basketball,  and Track),and Alexandria Reichert (Cross Country, Soccer, and Track).
AHN athletic director, Mr. Kevin Vargas applauded all of the athletes for their performances in the spring sports season ."I am extremely proud of our accomplishments throughout the spring season. This group of student-athletes truly put an exclamation point on what has been another terrific athletic year at AHN."
Other awards include the following students:
Crew
Most Outstanding Freshman – Mimi Kamm
Jaguar Spirit Award – Amber Orosco
Most Improved Rower – Emily Musselman
Most Valuable Rower – Victoria Martinez
Softball (District Champions)
Coach's Award – Julia Schifino
Most Valuable Player – Janelle Enriquez
Most Outstanding Offensive Player – Ashton Hill
Most Outstanding Defensive Player – Christina Gerecke
Tennis (District and Region Champions)
Coach's Award – Olivia Rivas
Jaguar Spirit Award – Amanda Schifino
Clutch Performer – Caroline Lozo
Impact Player – Daniela Nasser
Track (District Champions, Region Runner-Up)
Most Valuable Sprinter – Ryann McEnany
Most Valuable Distance Runner – Claire Snyder
Coaches Award – Rebecca Patterson
Jaguar Spirit Award – Alexandra Reichert
About the Writer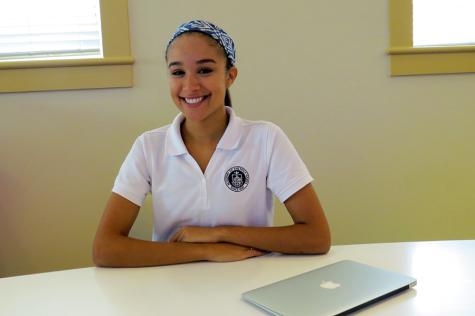 Rachel Anderson, Sports Editor
Senior Rachel Anderson has been on Achona since Sophomore year. She attended the CSPA Convention in the fall of 2013 where she presented a workshop on...