Outstanding Golf star Emmy Martin plays alongside the professionals in the LPGA Symetra Tour
When you turned on your television during the weekend of August 9, you may have seen a familiar face on the screen. Playing alongside the professionals in the LPGA Symetra Tour was none other than senior Emmy Martin.
Emmy's long journey to the top began in seventh grade and quickly accelerated from there. With her passion growing for the game each year, she took on the task of leading her high school team to victory in their numerous matches and tournaments. Playing as the number one seat on the team, Emmy discovered what it took to become a true leader, always pushing and encouraging her teammates to strive for success. However, her victories in high school would only fuel her desire to win in national tournaments.
According to Martin, national golf tours and high school golf differ in many ways. For one, national tours have one thousand more yards added to the course and matches are extended for three or four days compared to one or two. In order to prepare herself for these lengthy golf tournaments, Martin practices from longer distances to get used to the tougher conditions. So don't be surprised when you see Martin teeing off with a six iron in her high school matches.
Challenging herself to difficult conditions on the golf course did not go unnoticed. In order to play in the Symetra Tour, "Road to the LPGA", Martin had to obtain a sponsor exemption.  Her hard work in previous tournaments had paid off and she was able to experience what playing the big time was like. According to Martin, participating in the Innisbrook Tournament was life-changing. "I had a blast competing with some of the best amateurs and I cannot wait until I have the opportunity to play in another!"
When Emmy completes her senior year at the Academy, she will be heading to Texas Christian University on a full golf scholarship to help the Horn-Frogs to victory. So watch out TCU for your next upcoming star!
View Comments(1)
About the Contributor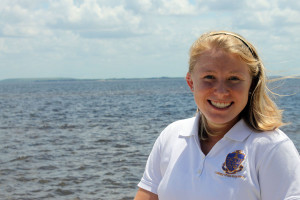 Casey Pluchino, Senior Staff Writer
In her spare time, Casey enjoys playing golf and tennis with her friends. She also dreams of becoming Tinker Bell someday.