AHN swimming begins with a splash
The Academy swim team kicked off their 2013 season with a 16-point win over Newsome and a second place spot in the annual City Relays.
Senior Margret Shumake felt that the team fed off each other's energy to pull the win against Newsome together. "Our team has never beat Newsome…like ever. It's not that our team is better than it has ever been. It is just that we really came together as a team and really worked together."
City Relays bring together the Tampa swim teams for a day to compete in a meet consisting solely of relays. One thing that differed this meet from others was the mixed events. Boys and girls competed in a relay together, earning points for both teams.
Once again, the team came together to cheer on their teammates on both Jesuit and Academy.  Even the swimmers who did not have the opportunity to race in a relay had the important job of cheering at the end of relay lanes.
Junior Konner Brewer said the meet was a really encouraging beginning to the season, only missing first place by four points. "To see so many people on our team cheering at the other end of the pool really motivated me to finish the race strong."
After the meet, the Academy team went to senior Kristen Dawson's house for a team sleepover. Every year, it is hosted by the seniors as a chance to get to know the underclassmen, particularly the new middle school and freshmen swimmers. A fun night filled with traditions, food, movies, swimming, and bonding brought the team closer together.
Senior Lauren Ayers said the sleepover was a great way to bond with the team and an awesome way to start the season. "I feel so much closer to everyone after spending the night just hanging out and really talking to them all. The rest of the season is going to be so much fun!"
The whole swim team shares Lauren's sentiments and look forward to a fun-filled, successful season.
View Comments (1)
About the Contributor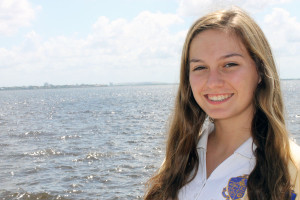 Elaine Petrarca, Social Media and Photo Editor
As Achona's photo and social media editor, Elaine knows how to make Academy shine. She is the President of the National Forensic League. She also participates...