AHN Gold "Rush" to support volleyball team
On Tuesday, October 1, 2013 the AHN volleyball team played the Tampa Catholic Crusaders. AHN students spent the week leading up to the game promoting and encouraging attendance. The senior members of Golden Girls cleverly coined the term Gold Rush as a the name for the student section at sporting events.
The night of the game, a lofty amount of AHN students went to Tampa Catholic High School to support the Jaguars. Along with the students, President Art Raimo and  Principal Camille Jowanna attended the game. The Lady Crusaders dominated the first two rounds. However, the Jaguars made a comeback during the third round, ending the round with of score of 25 – 14. Unfortunately for the Jaguars, the Lady Crusaders ended the fourth round and the game scoring 25 – 19.
Despite the loss , the AHN students ended the game by singing the school's Alma Mater. Following the game, AHN students felt unified and excited to support their sisters at sporting events.
Leave a Comment
About the Contributor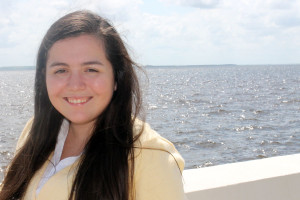 Priscilla Vasquez, Lifestyle Editor
Priscilla Vasquez is the Lifestyle Editor of Achona. She enjoys writing about current events, beauty and fashion trends. On the weekends she likes to hang...