Jesuit Cheerleaders and Jaguarettes pump up the crowd at Homecoming Pep Rally
Academy Jaguars helped kick off Jesuit's Homecoming week with a pepped up night. The Jesuit Cheerleaders and Academy Jaguarettes helped pump up the football players for their big Homecoming Game on Friday. The Academy girls showed their special talents by cheering and dancing throughout the night.
Academy Jaguarettes have been dancing at Jesuit's Pep Rally for the past couple years. The Pom routine was a new dance that was performed for the first time on Wednesday for the Jesuit student body. Seniors Hannah McCarthy, Lizzie Emmanuel, Rachel Astorquiza, Natasha Rahim, Maddie Cahill and Abena Baffoe-Bonie cherished dancing at their last homecoming pep rally and said it's always one of the most exciting performances of the year. The Blue Tide feeds off an energy that helps the girls perform to their fullest potential. The Jaguarettes danced their hearts out and made their coaches and captains proud.
Each year the cheerleaders perform an opening and a big routine. After the opening which includes stunts and tumbling, the underclassmen football players walked through a tunnel the cheerleaders form while they performed the famous "fight song". After the Jesuit Student Council amused the crowd with various skits, it was time for the senior football players to enter. Each player walked up to their own unique song and was met at the middle of the basketball court by a senior cheerleader. From their first pep rally freshman year, the Jesuit Cheerleaders always look forward to this bittersweet moment of handing gift bags to their Jesuit friends. Once the cheerleaders watched the Baby King crowning and the wonderful performance of the Academy Jaguarettes, it was time for their big routine.
The Jesuit Cheerleaders had been preparing for this moment of pep rally since the beginning of summer. The girls attend a camp in July which consists of  daily rigorous practices from 9-4. It is a difficult seven days, but by the final day, the girls return with a three minute routine from world renowned cheer coaches.
Once the Varsity and Junior Varsity teams nailed their routine, the girls could finally breathe.
Haley Ratchford explained her feelings after the routine, "All of our stunts and formations hit, and we executed the routine perfectly. I couldn't be happier with my team!"
The night was an overall success for the Cheerleaders and all the hard work paid off!
All of the Academy girls combined hard work, resulted in a flawless pep rally for the Jesuit Tigers!
Leave a Comment
About the Contributor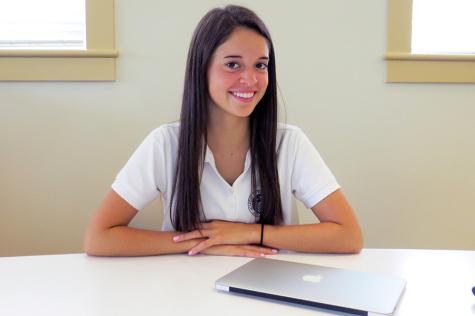 Gaby Ruiz, Arts & Entertainment Editor
Senior Gaby Ruiz has been on Achona since Sophomore year. She's Arts and Entertainment Editor and Captain of the Jaguarettes Dance Team. She enjoys watching...