Jesuit cheerleaders experience a bittersweet Senior Night
What could be better than having your senior night fall on the same night as your biggest game of the season? For the Jesuit cheerleaders, nothing!
This past Friday, November 8, was the Jesuit cheerleaders' senior night and the infamous Jesuit vs. Tampa Catholic game. The night began with the parents of each senior escorting their daughters onto the football field. As they walked, the announcer for the game introduced each cheerleader, stated the various accomplishments of community service projects they're involved in, and the colleges they wish to attend along with their projected majors.
Each girl then received a bouquet of flowers from the varsity cheerleading coach, shook hands with various Jesuit coaches, administrators, and priests, and then posed for photos with their parents. Overall, the ceremony was very elegant and exciting.
At the game's halftime, the underclassmen on the varsity cheerleading squad presented each senior with a personalized gift. However, one item in each gift was the same for each senior; a copy of the photo they had taken with their parents just at the beginning of the game. The photo was enclosed in a specialized frame, decorated with Jesuit blue paint, jewels, and ribbons; a very special moment from the night that will be cherished for years to come.
In addition, the cheerleaders learned a special sideline cheer that featured the twelve seniors, which was performed at the end of the third quarter of the game. The cheer ended with each senior posing on a different letter, spelling out S-E-N-I-O-R-S. The crowd thoroughly enjoyed this traditional cheer, as it has been preformed for several past years.
Preparation for a night this special is very strenuous, calling for a great amount of time and hard work, but it is always worth it in the end.
Senior cheerleader Kendall Bopp explains her experience, "Cheerleading isn't easy, but every practice is worth it. We've grown so much as a team, and I've met some of my best friends through the program. It's an experience that I wouldn't trade for the world and I'm extremely grateful for all of the hard work the coaches put in."
The night concluded well, with a win over Tampa Catholic and an incredible tribute to the hardworking seniors; better than any cheerleader could have ever imagined. The Friday night lights will be greatly missed, but the cheerleaders will forever keep a piece of Jesuit High School in their hearts.
…Now on to basketball season!
Leave a Comment
About the Contributor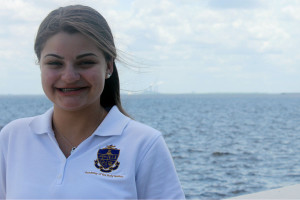 Cassidy Whitaker, Senior Staff Writer
Cassidy Whitaker is a staff writer for Achona. Her interests include current events and writing. In her spare time, she enjoys playing with her corgi and...